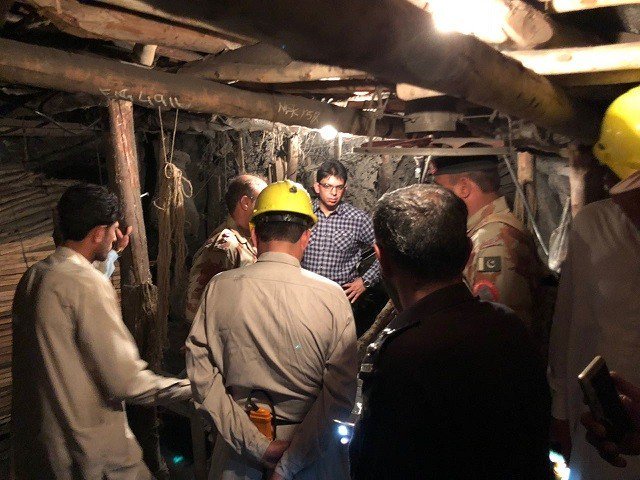 ---
QUETTA: After hundreds of miners lost their lives in mishaps in coal mines over the years, Senate Committee on Human Rights Chairman Nawaz Khokhar has finally taken notice of their plight, saying colliers are facing hazardous complications in Balochistan due to insufficient resources and lack of modern machinery.

"There is a dire need to review and amend repaying policies for the poor miners and labourers," said Senator Khokhar while addressing a meeting on human rights on Monday.

Death toll from Balochistan mines collapse tragedy rises to 23

Senators Jahanzeb Jamaldeni, Usman Khan Kakar and Sana Jamali, Balochistan Chief Secretary Aurangzeb Haq, Home Secretary Ghulam Ali Baloch and Inspector General of Police Moazzam Jah Ansari were also present.

Khokar said, "The compensation amount for martyred miners should be more than Rs500,000 each."
Khokhar said, "For efficient mining modern machinery was the need of the hour and provision of all basic life facilities in the mining areas is the government's prime responsibility."

He urged the Mines Department chief engineer to visit the mines and see the deplorable living conditions provided to the miners, who "do not have clean water, housing facility and healthy food".

Coal mines in Balochistan out of bounds to inspection teams

Khokhar also urged the provincial government and district management to construct rescue centres and hospitals in the areas where the mines were located.

He said that it was sad to know that mining was being done in remote areas of the province, but hospitals were constructed in Quetta city for treatment of labourers and colliers.

IGP Ansari and Frontier Corps Brigadier Zahid briefed and discussed all details, regarding peace and security measures in Balochistan, with the senators.

They said that police officers and FC personnel had been deployed in the Hazara community areas in Quetta and security check posts were set up at all routes leading to their residential areas.

Hazardous work: Eight coal miners killed in Balochistan mine explosion

The Hazara pilgrims, who travel from Quetta to Taftan, were being provided full protection and police and FC squads were travelling with their buses, they added.

Zahid said, "FC and other law enforcement agencies were taking concrete measures for restoration of peace and security in Balochistan and held successful search operations on a daily basis at terrorist camps and recovered large amounts of arms and ammunition.

The Senate human rights committee chairman applauded the sacrifices rendered by the security forces in Balochistan in the ongoing war on terrorism.
Several miners have lost their lives over the years. Most of them died due to explosions in mines caused by building up of methane gas, which ignites after coming into contact with a heat source.

While others have lost their lives in mud avalanches.

This year in the beginning of May, at least 23 miners were killed and several injured after two separate coal mines collapsed in Balochistan.

A total of 16 person were trapped after a gas explosion in Pir Ismail, Marwar (45km from Quetta). Their bodies were later recovered after hours-long rescue operation.
COMMENTS
Comments are moderated and generally will be posted if they are on-topic and not abusive.
For more information, please see our Comments FAQ