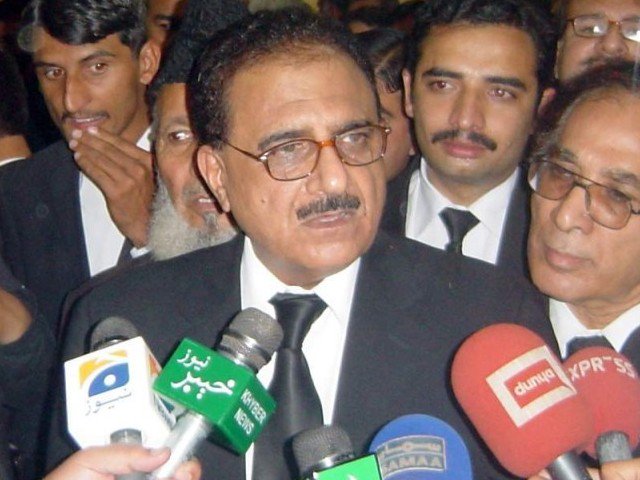 ---
ISLAMABAD : The Supreme Court has written a letter to the Supreme Court's newly-retired judge Dost Muhammad Khan – who has recently been appointed as Khyber-Pakhtunkwa (K-P) caretaker chief minister – to return the official vehicles in his use.

Sources revealed to The Express Tribune that the apex court's administration has written a letter to Justice Dost to return two cars and a Naibqasid (messenger).

Earlier, Justice Dost was informally contacted for the purpose but he inquired whether there was any specific order for withdrawal of the cars. Later on, it was decided that a letter would be addressed to Justice Dost to return the cars. The letter was written on Saturday, according to the sources.

SC gives a month to wrap up proceedings

While hearing a suo motu case related to withdrawal of officials vehicles from former ministers and officers, Chief Justice of Pakistan (CJP) Mian Saqib Nisar last week noted that the judge had been appointed against a political post and the court would withdraw the SC's official car presently in his use.

"That's why Justice Dost Muhammad Khan was not accepting a reference," said the CJP, while referring to the retired judge's refusal to attend a full court reference that the Supreme Court was planning to bid him farewell on retirement in March this year.

CJP dissolves MTI boards

According to a senior official in the SC, generally it is a practice that judges use vehicles, staff and house for six months after retirement. Most of the judges return vehicles and lower staff soon after their retirement, but there are precedents when retired judges retained such things for six months.

A debate is still continuing over Justice Dost's refusal to attend a full court reference as well as farewell dinner in his honour. It was officially said that Justice Dost had recused himself from the farewell dinner for personal reasons. However, different versions came from senior lawyers and SC officials.

CJP wants advertisement walls demolished in Karachi

One section alleged that the CJP sought Justice Dost's speech which he intended to deliver in the full court reference. Later, the CJP in his address to bar association completely denied it.

Some lawyers also claim there was an issue about allotment of plot in Islamabad, which he could not get. Justice Dost had not endorsed the conviction and disqualification of PML-N senator Nehal Hashmi.