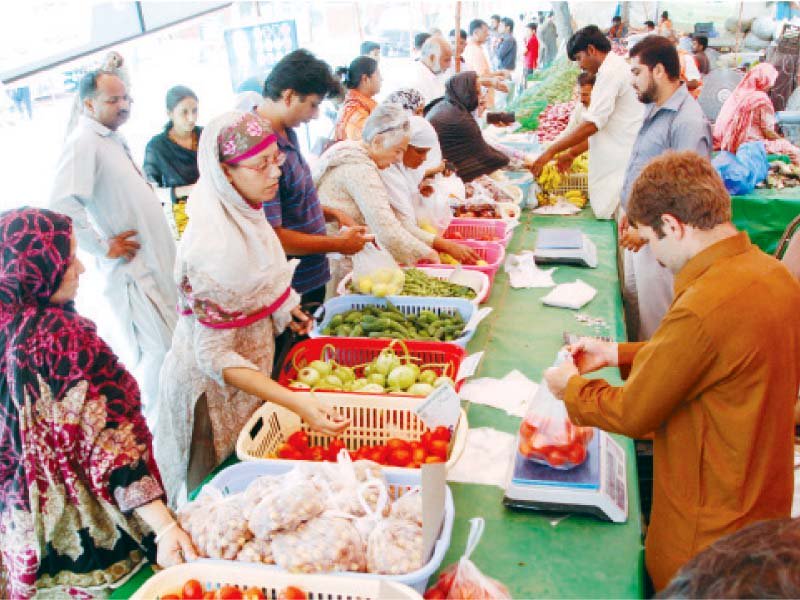 ---
LAHORE: As Eidul Fitr is around the corner, prices of almost all essential commodities including, fresh fruit and seasonal vegetables, have witnessed a new surge in open markets and Ramazan bazaars.

Speaking to The Express Tribune in Township Model Bazaar, a number of citizens complained about inflated prices and low quality product.

A citizen, Muhammad Rizwan, said that ahead of Eidul Fitr, prices of all essential commodities have jacked up in Model and Ramazan bazaars.

"The government claims that it is giving subsidy on essential commodities during the holy month. But in reality, prices of most commodities, like onion, tomato, melon, peach and banana, are higher than open market rates in these makeshift markets. Greengrocers and vendors in Ramazan bazaars are fleecing consumers in broad daylight but no government official is present to regulate prices."

A housewife, Shahzahd Khan pointed out that street vendors are selling tomato for Rs10 to Rs12 per kilogramme in open market, but the same is being sold for Rs30 in Model bazaar. Similarly, sorted and dried onions are available for Rs20 per kilogramme in open market and Rs24 per kilogramme in Ramazan bazaars.

She said that prices of almost seasonal fruits are higher than open market when you compare product quality being sold in Model and Ramazan Bazaars.

Another shopper, Azhar Nadeem said unsorted and mixed peach variety is available for Rs70 to Rs80 per kilogramme in open markets. But similar or even the worse quality peaches are being sold at Rs150 per kilogramme in Ramazan bazaars. "There is no system of price control available in the country. Shopkeepers and vendors are on a looting spree ahead of Eid."

Deputy commissioner office claimed that price control magistrates are monitoring prices regularly and imposing heavy penalties on profiteers. Price control magistrates are raiding hundreds of shops on a daily basis just to check prices. They impose fine, award imprisonment and register cases against them.

Substandard sweets

Besides greengrocers, sweet shops have also put their bad stocks on sale ahead of Eid.

Punjab Food Authority (PFA) spokesman said the authority has launched a crackdown against substandard sweets across Punjab.

The food safety officials of the provincial food watchdog are visiting sweet shops in the city.

A team of PFA has imposed a heavy fine ticket of Rs200,000 to famous sweets production unit located in Gulberg for failing to maintain hygiene and clean work environment. The sweet shop had not hired the services of food technologist required under provincial food regulations.

The spokesman said that last week, PFA Director Noorul Amin Mengal had awarded a cash prize of Rs10,000 to Butt Sweets (Lakshmi Chowk) for bringing improvement and following the authority instructions. A cash prize was given to two food technologists of the sweets shop, who had specially hired in order to ensure the quality and standards of the food.



Published in The Express Tribune, June 11th, 2018.