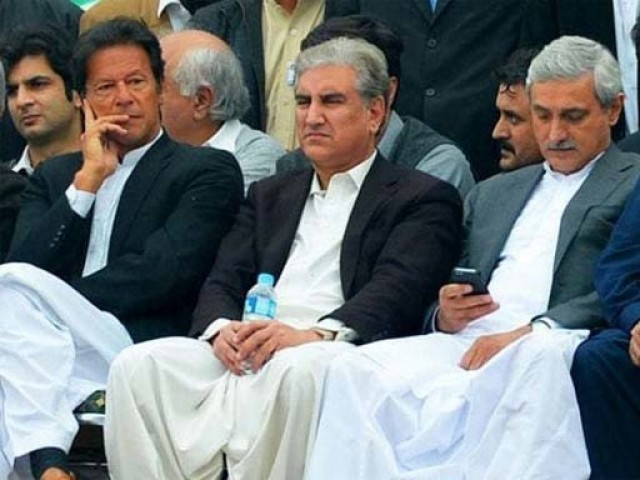 ---
ISLAMABAD: A former secretary-general of Pakistan Tehreek-e-Insaf's (PTI) Rawalpindi chapter, Syed Shahid Gilani, announced on Sunday his intention to contest polls from Khadim Rizvi's Tehreek Labbaik Pakistan.

Shahid Gilani also announced he is quitting PTI in protest after the party awarded a ticket to Amir Mehmood Kiyani, one of Imran Khan's close aides, from NA-61 (Rawalpindi).

PTI flouts its abhorrence for dynastic politics

He said that the party had ignored his 10-year-long struggle to establish the party in the city.

Gilani was not alone. Scores of loyalists and the old guard from across Pakistan protested outside Imran Khan's residence in Bani Gala against what they termed unjust award of tickets.

All disgruntled party leaders accused the party leadership of entertaining new entrants at their cost and ignoring their hard work and dedication.

Speaking at a press conference here, Syed Shahid Gilani wondered the criteria for awarding the party ticket from NA-61 to Kiyani, who did not even live in that constituency and lacked a personal vote bank.

He said that he had joined PTI when it was not even popular and spent the past 10 years to establish the party at grassroots level in Rawalpindi.

"In this situation, I have decided to quit the party (PTI) and contest elections against PTI's candidate from the platform of Tehreek-e-Labbaik Pakistan," he said.

PTI chief holds board to decide ticket awarding procedure

PTI activists from NA-59 (Rawalpindi) and NA-74 (Sialkot) also staged protests outside Imran Khan's residence against what they termed unfair distribution of tickets in their constituencies.

Ghulam Sarwar Khan was awarded the party ticket from NA-59 while Barrister Mansur Sarwar Khan was given the party ticket from NA-74.

Party workers from NA-74 were chagrined over the party leadership's move to disregard what they called "unmatched services" of Maj-Gen (retd) Noor Hussain Shah and awarding the party ticket to Mansur Khan, who, they insisted, was unacceptable to local party loyalists.

They said they would not cast votes for an unknown figure.

Similarly, supporters of PTI leader Ajmal Raza also protested against the award of tickets for two National Assembly seats to Ghulam Sarwar Khan.

'PTI won't budge an inch'

PTI activists from Faisalabad's provincial assembly constituency of PP-100 also protested in Bani Gala against award of party ticket to Zaheeruddin at the expense of Khan Bahadar Dogar.

On Saturday, Dogar said at a press conference in Faisalabad that he had ensured uninterrupted supply of food to participants of PTI's 2014 sit-in against poll rigging.

Another PTI leader from Rawalpindi, Ijaz Khan Jazi, also announced he will contest elections as an independent candidate after he was refused a party ticket by the party leadership.

Party workers from other constituencies also staged protests outside Imran Khan's residence.

Interestingly, PTI awarded almost one-third of tickets for National Assembly seats in Punjab to electables who had joined the party during the past three months.

Two politicians given tickets in Punjab are those who left PTI only to rejoin it just days before announcement of the party tickets for the 2018 general election.

Of the total 141 National Assembly constituencies in Punjab, PTI had so far decided tickets for 113 seats.

As many as 32 (or 29 per cent) of 113 finalised candidates from the province are those who joined the PTI during the past three months, between April and June this year.

PTI had been criticized by the old guard and even its political rivals for the choice of candidates the party is fielding to contest the general polls.

In view of the situation, the PTI chairman announced forming a reconciliatory committee to settle disputes over the award of tickets.
COMMENTS
Comments are moderated and generally will be posted if they are on-topic and not abusive.
For more information, please see our Comments FAQ