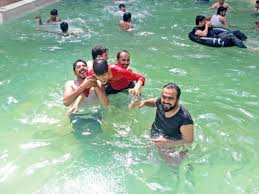 ---
MULTAN: Throngs of youngsters head straight for swimming pools and tube wells, after temperatures soar in Multan.

Famous for its mangoes and for being the city of saints, Multan is also notorious for its boiling temperatures. As temperatures fluctuate between 44 to 45 degrees centigrade, young adults seek out ways to cool off.

The city is dotted with swimming pools located across the area, where owners are charging citizens anywhere from Rs50 to Rs2,000 in order to take a dip. People are also taking advantage of tube wells located in agricultural fields and mango farms.

The charges vary from pool to pool, stated Muhammad Zaid Qureshi, a pharmaceutical representative. At the Nistar Hostel swimming pool, they are charging Rs100 for one go. However, at the pool located on Abdali Road, they are charging citizens Rs2,000, he revealed.

Not only is bathing in these pools a good way to keep cool, but it also provides us with hours of entertainment, said Usama, a student, who was also quite fond of frequenting these spots.

Taking it one step further, Laique Sheikhana, a farmer and a resident of Nawabpur, maintained that several people, including family and friends, visited his farms in order to splash about in the tube well located on his property.

There are hundreds of tube wells located in the area and they are always overcrowded with people. And the best part, they are free-of-cost, he added.

Published in The Express Tribune, June 4th, 2018.