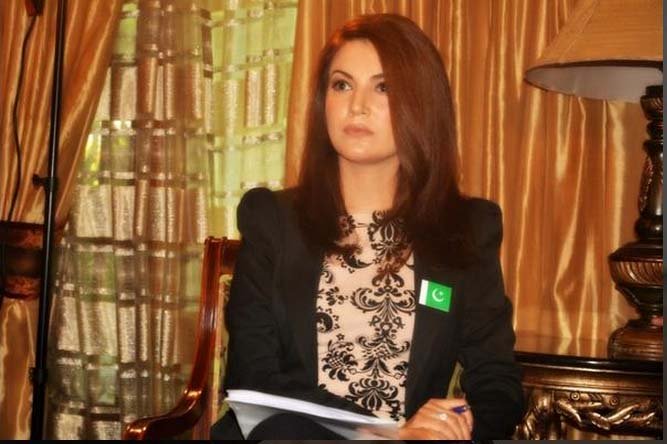 ---
ISLAMABAD: In a bid to counter possible adverse effects of the revelations contained in the soon-to-be released autobiography penned by Reham Khan, the Pakistan Tehreek-e-Insaf (PTI) stepped up its efforts to make the book controversial even before its release.

Reham Khan, the former wife of PTI Chairman Imran Khan, is likely to release her autobiography any time this month.

A promotional video of the book, obtained by this correspondent, showed that the book would contain Reham's personal life experiences as "a mother, wife, journalist and a warrior".

The PTI recently released what it termed "solid proofs" about Reham's alleged nexus with the PML-N leadership. The evidence contained purported hacked emails between Reham and former interior minister Ahsan Iqbal, a veteran PML-N leader.

Reham, in a series of tweets on Saturday, alleged that the PTI had persistently been threatening her. In support of her assertion, she posted copy of an email sent to her by actor and PTI supporter Hamza Ali Abbasi.


Hamza has been emailing me threats since August 2017.
Bullies trying to silence me

— Reham Khan (@RehamKhan1) June 2, 2018


Interim set-up: PTI insists on its 'worthiest' candidates

According to the email, Abbasi told Reham that her email had allegedly been "hacked" and warned her "to be very careful in future".


Only one email by one PTI member.
Bully me more I will publish all one by one! pic.twitter.com/E5Y5b5yPzU

— Reham Khan (@RehamKhan1) June 2, 2018


According to emails presented by the PTI, dating between January 17 and January 23 last year, Iqbal supposedly finalised time for a meeting and invited Reham at his residence for dinner with Maryam Nawaz. Reham challenged the authenticity of emails presented by PTI as "evidence".


Example of some independently hacked stuff that IK never used against RK. Deleted the previous one to upload a clearer version. Before U point out that its fake bcz it says "wro=te" not "wrote" thats code lingo. Shame how RK sold her soul to N League for a few bucks & cheap fame. pic.twitter.com/dRSSZi50gS

— Hamza Ali Abbasi (@iamhamzaabbasi) June 2, 2018


Reham, the PTI insisted, met with Maryam through Iqbal, who also held the portfolio of planning and development. The book, the party said, was a ploy to demolish the country's "only real opposition, that is PTI".

PTI's spokesperson Fawad Chaudhry said that emails between Reham and Iqbal only proved the former's "heinous plan to malign the party chairman's character and reputation".

However, Iqbal swiftly rebutted PTI's claims. He said it was shameful that the PTI resorted to "fabricating and distorting emails to defend itself".

JI formally parts ways with its coalition partner PTI in K-P

"I have never met Reham Khan except during an interview for [a private TV channel] before her marriage with IK [Imran Khan] nor [have I] arranged her meeting with anyone. Please don't drag me in matters between former spouses."


Most shameful PTI resorting to fabricated and distorted emails to defend itself. Neither I ever met Reham Khan except for an interview in Aaj Studio before her marriage with IK nor arranged her meeting with anyone. Pl don't drag me in matters between ex spouses.

— Ahsan Iqbal (@betterpakistan) June 2, 2018


A PTI leader and a close aide of the party chairman, Syed Zulfiqar Bokhari aka Zulfi Bokhari announced initiating litigation against Reham.

Terming the book "a pathetic and filthy attempt by Reham Khan and Punjab CM Shehbaz Sharif", he said that Sharif should have sent her more money, enabling her to hire "a decent ghost writer. A court case is being filed abroad", he tweeted.

A number of social media users believe that 'PTI's panic attack' confirmed that Reham's book had "some explosive stuff". They also warned that "hacking someone's conversation is a grave crime with international implications".

A social media war over the issue erupted on June 1 after TV and filmstar Abbasi took to twitter to inform his followers about a 'summary' of the book.

"Had a very unfortunate experience of reading a manuscript of Reham Khans book. Here is the summary: IK is the most evil man to walk the face of this planet. Reham is the most pious righteous (Tahajjud Guzaar) woman ever and Shehbaz Sharif is an amazing guy!" he tweeted.

Reham, in response, posted on social media an email sent to her by Abbasi on August 15 last year in which Abbasi informed Reham that the PTI had substantial data [in the shape of emails] against her provided by some "agency or hackers".

In the last line of his email, Abbasi wrote: "Be very careful in whatever you decide against PTI in future."

Reham, on the other hand, wondered how it was possible for the actor to read the manuscript of her book, since the book had not been released yet. "Only possible through fraud or theft," she said.

As the controversy deepened, #RehamKhan on Saturday became top trend on twitter with some social media users commenting that the PTI had effectively provided Reham much-needed publicity for her book before its launch.