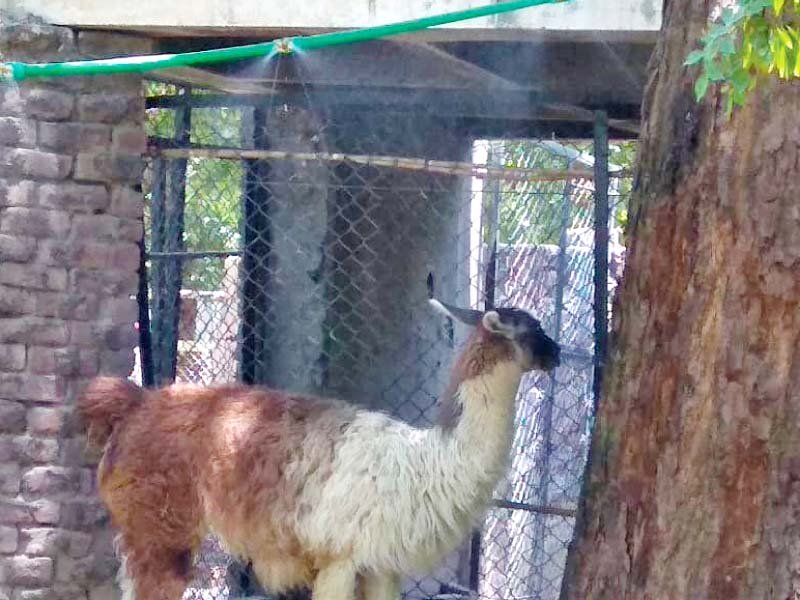 ---
LAHORE: The installation of sprinklers has kicked off at Lahore Zoo to provide respite to the animals in the scorching heat as temperatures soared in the city.

Persistent dry weather in the plains of Punjab resulted in the mercury rising to 43 degrees Centigrade on Sunday. Experts predicted that the prevailing condition could persist, and with greater intensity, over the next 2-3 days.

Keeping the extreme weather conditions in mind, these sprinklers are being installed at the recreational facility. The aim is for them to produce a light shower and reduce temperatures in cages or enclosures of animals.

Lahore Zoo animals to enjoy cool drizzle in scorching heat

Lahore Zoo Director Hassan Ali Sukhera said this is the first experiment of its type being conducted at the zoo.  "The first sprinkler was installed in the American camel's enclosure with the help of plastic pipes and nozzles that would create a light drizzle," he shared. Camels protect themselves from the heat by standing underneath this shower, he added.

Sukhera said that the temperature in the enclosure decreased considerably due to the continuous shower and winds. "It would have cost us a lot more if some company had installed these sprinklers. We bought the equipment from the market and installed the sprinklers ourselves. It is a successful experiment," he added.

The director stated they have also installed the sprinkler system in two enclosures for the lama, a kind of camel found in South America, for Rs7,000. Now the same system would be installed in enclosures of other animals and birds too.

Published in The Express Tribune, May 29th, 2018.