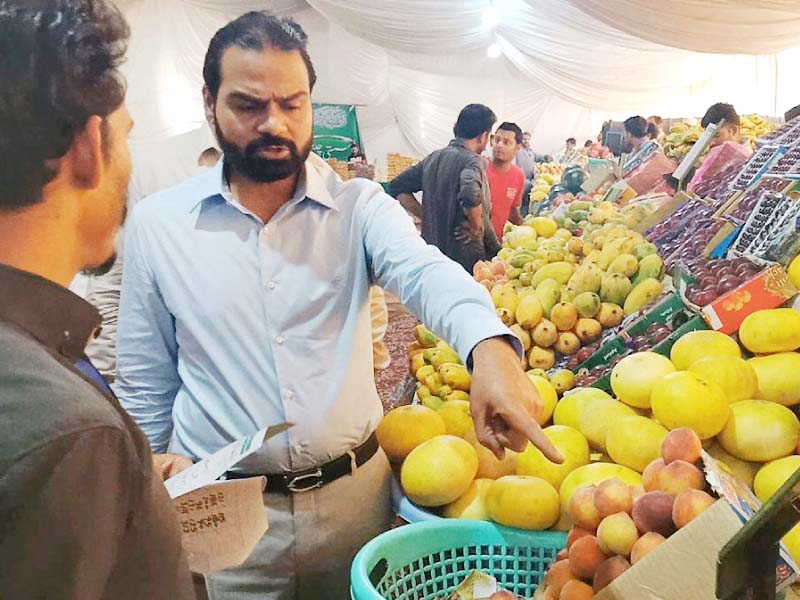 ---
LAHORE: In the absence of an efficient price control system, vendors are fleecing consumers by jacking up prices of all seasonal fruits and vegetables across the provincial capital.

The situation has even worsened in Ramazan bazaars where they have displayed their own price lists right under the nose of the entire provincial and district machinery.

Speaking to The Express Tribune, various consumers complained about overcharging in Ramazan bazaars and open markets in the city. A shopper, Irfan Hussain, said that vendors have printed their own inflated price lists in several Ramazan bazaars. However, the price lists are changed as soon as government officials arrive at the scene. "Once they leave, the vendors display the inflated rates again," he added.

"I believe it is impossible to fleece consumers in Ramazan bazaars without the connivance of government officials. Nearly a dozen government agencies are regulating these makeshift markets, but vendors are still fleecing consumers right under the noses of provincial and district authorities. It clearly shows the government's will to control commodity prices," he underlined.

Ramazan Package 2018 gets approval

A citizen, Muhammad Ilyas, said the government has been setting up these Ramazan bazaars for the last many years. Every year, consumers make similar complains, but the government has not developed a system to resolve complaints. In most cases, district government officials or market committee staff members make promises to handle public complaints on a personal level. "They try to satisfy annoyed consumers by giving them false hopes of strict action against profiteers and that is the reason profiteering exists in society," he said.

A middle-aged woman, Ishrat Bibi, pointed out that most greengrocers are selling blended varieties of fruit and vegetables. "They have mixed different quality and size of fruits in their baskets and asking rates are that of the premium variety.

For A-grade fruit and vegetables, most vendors are asking special rates," she said. The consumer demanded that the Punjab Chief Minister Shehbaz Sharif take strict action against those who violate price regulations.

Meanwhile, Price Control Committee Chairman Mian Usman visited Faisal Town and Bab-e-Pakistan Ramazan bazaars to inspect prices and producs quality. He also received complaints that vendors have fixed their own rates for A-grade products. He warned vendors to only display official price lists. The chairman issued warning notices to 30 vendors making small violations of provincial price regulations. He also directed the management of these bazaars to remain vigilant to avoid any such incident in future.

During inspection, price control officials also found substandard fruit and vegetables at a number of stalls. Officials discarded rotten fruits and vegetables from stalls and issued a warning to vendors.

Last month, the chief minister of Punjab approved a Rs11 billion Ramazan package to provide essential commodities, including wheat flour, sugar, pulses, ghee, fruit, and vegetables, to the common man at subsidised rates. The government has set up over 300 bazaars, including 32 model markets, across Punjab.

Published in The Express Tribune, May 29th, 2018.
COMMENTS
Comments are moderated and generally will be posted if they are on-topic and not abusive.
For more information, please see our Comments FAQ