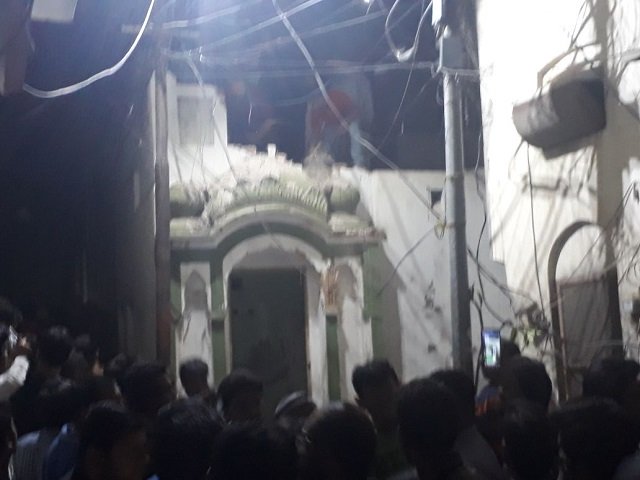 ---
KARACHI: A charged mob consisting of hundreds, including district officials, on Thursday razed two historic Ahmadi sites in Sialkot.

The men razed the sites in the early hours of Thursday claiming that the structures were 'illegal'.

Jamaat-e-Ahmadiyya (JA) press in-charge Aamir Mehmood told The Express Tribune that a 500-strong mob destroyed the Ahmadi worship place Baitul Mubarik and the historic residence of the Jamaat founder.

"[Mirza Ghulam Ahmad] had lived there. We were repairing the house. Municipal authorities, however, objected to this and sealed the structure," Mehmood added.

At first, only municipal authorities men were vandalising Baitul Mubarik, later scores joined and proceeded to raze the age-old Ahmadiyya sites, a statement issued by JA said. Saleemuddin, another JA representative, further added that it was a tragedy that this incident occurred in the holy month of Ramazan and at such an important site for Ahmadis.

PTI condemns PML-N's alleged pro-Ahmadi stance

JA and government officials confirmed that ownership of the structures was contested. The Sialkot DC had sealed the house a week ago.

While the structures were attacked early on Thursday, police claimed to have only become aware of the incident later in the morning. Mehmood said legal proceedings were already underway over the dispute.

"Dozens of municipal authority men were part of the mob that razed the structures without any [local administration] or court directive," Mehmood said.

No one, neither area inhabitants or police personnel, tried to stop the mob from razing the structures, he said. "They continued to vandalise the structures till the early hours of Thursday. They returned once again after offering Fajr prayers," Mehmood said.

Officials claimed that the strength of the mob was between 150-200 people.

DSP Irfan Butt said 15 to 20 were policemen were on site at the time.

Reiterating the stance of the municipal authorities, police also termed the structure "illegal" and defended the move to seal it.

Ahmadiyya community leader killed in gun attack

Documents available with The Express Tribune, however, show that the Sialkot Municipal authorities confirmed that the sole responsibility for the upkeep of the house lay with JA. The document also states that this would apply up till June 25, 2018. "Municipal authorities will not be responsible for any mishap on the site," the document reads.

At the same time, an FIR filed on May 13 by TMA Enforcement Inspector Zakaullah states that the changes the owners of the house intended to make were in violation of the sanctioned structure. Zakaullah alleges that this is unlawful under the Punjab Local Government Act.

Separately, footage doing rounds on social media features the men scaling the worship place. Another video shows one of them thanking the Sialkot district for their 'cooperation'. "I want to thank the Sialkot administration, the DPO, DC, and Town Municipal Corporation, from the bottom of my heart."




PHOTO: JAMAAT-E-AHMADIYYA

Additional reporting by Muhammad Shahzad in Lahore