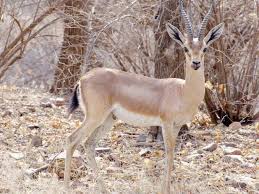 ---
LAHORE: Due to the ban imposed on hunting and smuggling of Chinkara deer, the population of these creatures has exceeded to above 4,000 in Cholistan, revealed a survey conducted by the Punjab Wildlife Department.

Majority of these deer can be found in Rahim Yar Khan. During the survey, which was conducted across 698,000 kilometres at 30 different sites, 148 Chinkara deers were discovered. By using these numbers, it is roughly estimated that population of this specific species exceeds 4,000 in Rahim Yar Khan Bahawalpur and Bahwalnagar.

Survey finds waterfowl on the rise

Bahawalpur Wildlife Division In charge Anwar Maan told Express News that the population of these animals has starkly increased during the past year. Further, in order to protect these "desert beauties", wildlife teams were formed which maintained a strict watch on all hunting hotspots to discourage smuggling young fawns, he said. The Chinkara deers are also called gazelles and can be found in India, Pakistan and Iran. It is a small creature, measuring approximately 65 centimetres in length, while weighing 25 kilogrammes. It's coat has a slight reddish tinge, while the lower half of its body is white with splotches of yellow on the inside of the legs and dark brown on either side of its stomach, he detailed. However, some environmental experts have said that the colour of the deer also changes according to the weather. In summer, the Chinkaara appears to have a reddish brown coat, while in winter it appears yellowish brown.

Watch: Common leopard gives birth to 'four cubs' at Peshawar Zoo

Its horns, which are typically 15 inches long, are used to make traditional medicines while its skin is used for several different purposes, experts said. In Pakistan, these animals can easily be found in Tharparkar, Umarkot and Cholistan, but their number continues to dwindle due to uncontrolled hunting. These deer usually travel in packs of three or four, while their average lifespan is 12 years of age, they said.

Female Chinkara deer mature in a year, while the males reach full maturity approximately in a year and a half after their birth. Just like mountainous goats, the deer have two mating seasons and consume very little water, experts added. Every year, the government announces relaxes hunting laws and announced a special trophy for hunting black and Chinkara deer. Individuals are allowed to hunt for the entirety of the month of March. In previous years, the prize money for hunting black deer was Rs0.2 million, while for Chinkara deer it was Rs75,000.

Published in The Express Tribune, May 21st, 2018.
COMMENTS
Comments are moderated and generally will be posted if they are on-topic and not abusive.
For more information, please see our Comments FAQ