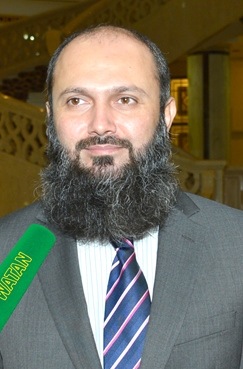 ---
Balochistan Awami Party (BAP) Central President Jam Kamal Khan has said that peace in the province and welfare of the people is the party's main objective.

"We will make the China-Pakistan Economic Corridor projects beneficial for the province," said the BAP central president while addressing a meeting of the party's senior leaders.

CM Bizenjo says BAP will end differences among people

The leaders included Senator Naseebullah Bazai, Ismail Lehri, Zafar Qambrani, Abdul Fateh Jamali, Khudabakhsh Lango and others.

He urged people to join the party.

Kamal said, "The people of Balochistan have grown tired of the politics of personal interests and have opted for BAP. This is no less than a political revolution. From here, the destiny of Balochistan will change of prosperity will come."

He welcomed the success of the first general council meeting of BAP held earlier during the week and said, "This is a positive change in the politics of Balochistan and in the coming days BAP will provide prosperity and peace to the people of Balochistan."

Four dissident MNAs of PML-N join BAP

Kamal said, "Our party will consist of original workers and we will create a new precedent where workers will be given their genuine posts and respect."

He said that there would be no monopoly in the party and the workers would be provided their due rights.

"There are many issues in Balochistan that BAP will resolve," he added.
COMMENTS
Comments are moderated and generally will be posted if they are on-topic and not abusive.
For more information, please see our Comments FAQ