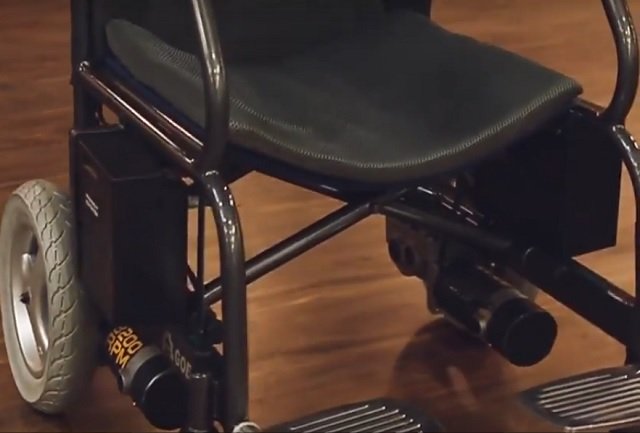 ---
LAHORE: Pakistan's first locally-made smart wheelchair will be launched on June 7. The smart wheelchair – which can be operated through a smartphone and voice - has already won the Best Consumer Product Design Award (2018) at the National Design Awards (NDA) Pakistan.

The wheelchair, called GOBEE, was developed by Faaiz Arbab, currently a student of MS Electrical Engineering at the Syed Babar Ali School of Science and Engineering at the Lahore University of Management Sciences (LUMS).

He has been working on the idea since 2015 as a term project for his BS at the University of Engineering and Technology (UET), Faisalabad Campus. However, he was unable to complete the project in time, but kept working on it and had a complete wheelchair in 2016.

Arbab later pitched the idea to the National Incubation Center (NIC) at LUMS and started working on the wheelchair once again from scratch. That is because he had sold the hardware and equipment.

Arbab now plans to sell the smart wheelchair at an affordable price through his company, Ayub Yaqoob Engineering Company (AYECo) which he has founded with Dr. Zahra Gull, a surgeon at the Mayo Hospital, Lahore. The wheelchair is set to launch on June 7 at the NIC at LUMS and has already secured preorders with multiple wheelchairs to be donated.

Talking to The Express Tribune, Arbab said that there were 800,000 people who require a wheelchair in the country. "Out of them, only 1 percent can buy an electric wheelchair. However, in Pakistan, there are a total of 12 percent smart wheelchair users. The rest of the 11 percent acquire them through donations from NGOs and through Punjab Welfare Trust for Disabled (PWTD). Most of these wheelchairs are used and imported from Japan."

About the availability, he said that the first minimum viable product had already secured preorders, with 25 wheelchairs to be donated with the help of donors, who would pay the price of the wheelchairs.

Customised wheelchair unit for special people set up

According to Arbab, the wheelchair is the world's first commercially available voice-operated electric wheelchair, which could be remotely controlled through a smartphone over a range of 100 feet wirelessly. It has a top speed of 18 km per hour and it can run for 25kms per charge. He said that the wheelchair can fully charge in 150 minutes.

He said, "GOBEE is loaded with additional features than the smart wheelchair available in Pakistan. The cheapest smart wheelchair available is made in China with a price tag of Rs145,000. On average, a smart wheelchair is available between Rs200-250,000. We are selling the GOBEE for Rs100,000 with additional features such as a long-lasting battery, onboard mobile charger and voice control."

He said that he had already secured around 32 preorders along with the 25 wheelchairs to be donated on the launch day. He said that his goal was cost reduction to give access to more people so that they could have independence.

"We already have two wholesale partners in Lahore who will also provide after sale services and we also have online sales. Because of this, we have preorders from all over the country from Quetta, Peshawar as well as smaller cities in Punjab," he said.

Arbab has a personal connection with GOBEE as he said, "My field of research is assisted devices and I chose this because of my family background. My grandmother and another family member faced issues that sparked my interest in assisted devices which can provide independence to people who face disabilities."

Currently, Arbab has a total of eight team members with six employees including an electrical engineer, mechanical engineer, software engineer, business developer, graphics designer and a University of Gujrat product designer who is working remotely.