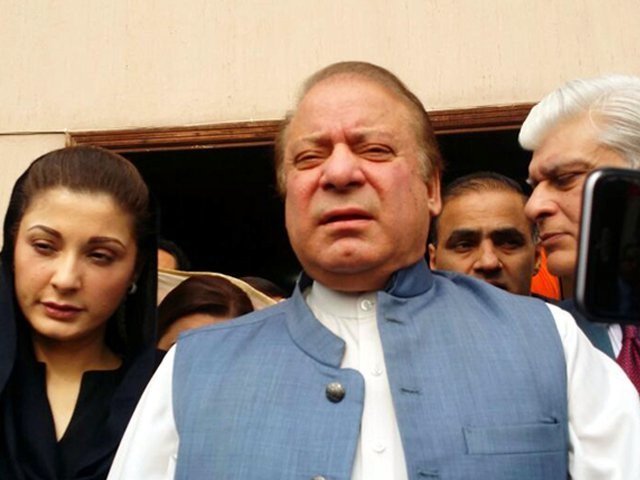 ---
Deposed prime minister Nawaz Sharif, continuing his criticism of the country's anti-graft body, said the National Accountability Bureau (NAB) was acting beyond its powers on several issues.

Addressing the media at the accountability court, the former premier claimed NAB was made by former president Pervez Musharraf to maintain control over state institutions. "These are laws made by dictators. It's time we decide whether the people want to follow laws made by a democratic government or laws made by dictators."

NAB to investigate money laundering allegations against Nawaz

"Laws leading to the formation of NAB were authored by Musharraf, that is why we see NAB is acting beyond its powers," Nawaz said, adding that the remarks passed by Prime Minister Shahid Khaqan Abbasi on the NAB chief are "commendable".

Nawaz further added that the accountability proceedings against the Sharif family might continue for a long period of time. "These piles of papers have no substance," he said, "Wajid Zia has been sending boxes of such papers for the past three months."

In a direct jibe at the Pakistan Tehreek-e-Insaf (PTI) Chief Imran Khan, the former premier said, "A person who can't be trusted, can't be a politician. He shifts the influence of power as per his own wishes."

Referring to the recent defection of PML-N lawmaker from Gujranwala, Rana Nazir, the former prime minister said that the lawmaker'a son did not vote for his party presidency. "Now I've learnt that Nazir is switching to PTI."

Accountability court requests SC for second extension in Sharif trial

"Defecting leaders of south Punjab aren't even known by the public," the former premier said while referring to the PML-N lawmakers that joined rival PTI.

Lawmakers, including former state minister of foreign affairs Khusro Bakhtiar, joined PTI and announced their decision in a press conference.