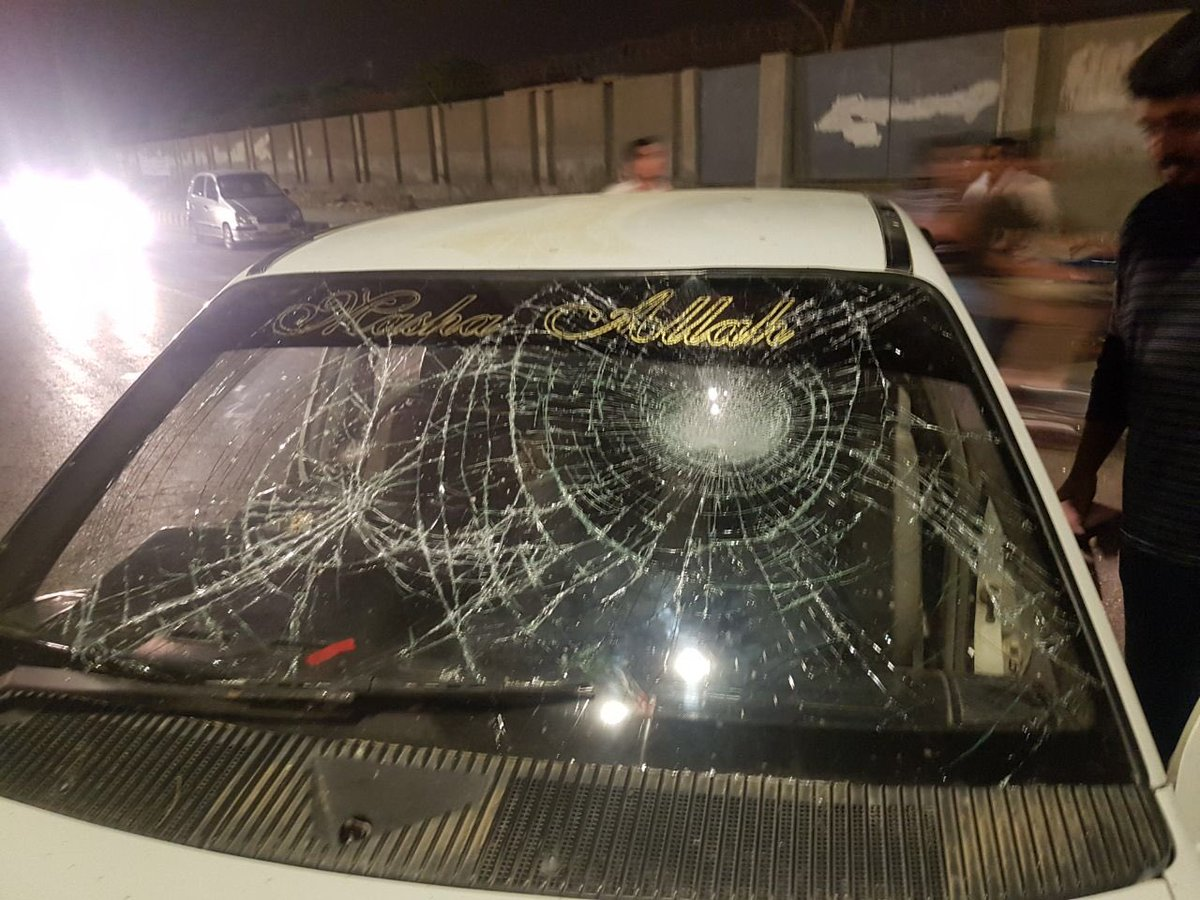 ---
The city of lights witnessed massive clashes between rival political parties attempting to secure Gulshan-e-Iqbal's Hakeem Saeed Ground for their political gathering due on May 12.

With more than a dozen injured with at least two gunshot victims - an SHO and a journalist - the rift between Pakistan Peoples Party (PPP) and Pakistan Tehreek-e-Insaf (PTI) caused panic in the city all day long.

Senior representatives of both parties laid claim to the ground with PPP flaunting a NOC for the venue while PTI workers took to the ground to set up camps. The inevitable face-off was quick to reach social media, whereon it continues to conflagration.

PTI vs PPP: Karachi rally ground turns into battlefield

The hashtags #KarachirejectsPTI and #کراچی_مانگے_انصاف were trending on micro-blogging website Twitter.

Some termed PTI workers as conflict seekers


So workers of PPP and PTI clashed. It happens. One of the party was seeking conflict, but the language of desperate Ali Zaidi 'tumaray ooper, tumharay ooper' is hilarious. It takes very little for these new political workers to get their knickers in a bunch. Lots to learn.

— S Q (@escue1) May 8, 2018


Some critiqued their coordination plan:


PTI comes up with a letter claiming that permission was sought on 6th may but due to PPP this was not received till 7th May.

Can anyone tell them please that Deputy Commissioner Office doesnt works on Sunday.

P.S: PPP Received NOC on 7th may for application submitted on 4th May pic.twitter.com/B34RdIxlAp

— PPP Sujawal (@PPPPSujawal) May 7, 2018


Some expressed renewed faith in PTI chief Imran Khan:


Thanks, @ImranKhanPTI for your words. @PTI isn't a Political Terrorist Party like PPP, PMLN, MQM etc. We are mature enough to account our people and yours too. Bring all the Culprits into justice and punish them acc to the law. #کپتان_اُمید_پاکستان @PTI_VF @AyeshaaImranist pic.twitter.com/FfTvrOANSK

— Turiiiiiiii (@Musadiq_turi) May 8, 2018


On the other hand, PPP supporters reminded peers about their party's enduring patronage and historic sacrifice:


#کراچی_مانگے_انصاف
#PPP have shed their blood to restore peace in #Karachi filthy homogeneity b/w #PTI and #MQM and their unified agenda of #Sindh dushmani is fully exposed last night @SaeedGhani1 @zafarppp pic.twitter.com/7AI2nTd9DE

— Jawad Jeelani (@jawadjeelani) May 8, 2018


Some were quick to drag the Muttahida Qaumi Movement (MQM) in the chaos:


PPP trying to bring back confrontation politics by announcing their Jalsa on the venue announced by PTI.

PPP along with MQM destroyed this city with this mindset of confrontation. PTI believes in peace and harmony! #karachi #PTINA243

— Arsalan Taj (@ArsalanGhumman) May 7, 2018


To which MQM-P leader raised a brow:


PTI is doing this on instructions of MQM - Saeed Ghani on GEO 🤔

— Syed Ali Raza Abidi (@abidifactor) May 7, 2018




Few argued militant attitudes are a bigger problem than party loyalties:


It's time we recognised that the fighting #PPP and #PTI workers in #Karachi are just poorly trained militants#کراچی_مانگے_انصاف

— Faizan (@FaizanAfzalPK) May 8, 2018


Some called for basic civic sense


It is important that our politicians and party workers must behave like adults at least. #PPP #PTI #PMLN #MQM

— Sana Jamil (@SanaJamil5) May 8, 2018


On ground or on social media, what's certain is that as the 12th of May approaches, the neighbourhood becomes a crucial constituency for swaying political support.
COMMENTS
Comments are moderated and generally will be posted if they are on-topic and not abusive.
For more information, please see our Comments FAQ