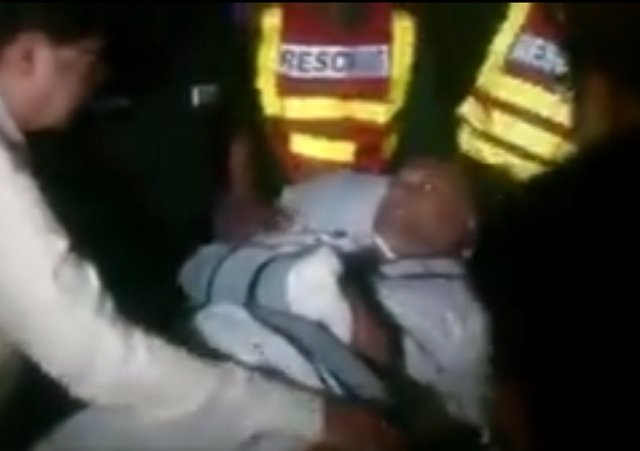 ---


Federal Minister for Interior Ahsan Iqbal was shot and injured in Narowal district of Punjab on Sunday evening.

Ahsan Iqbal, who belongs to the ruling Pakistan Muslim League-Nawaz (PML-N), was attacked during a corner meeting of the party in the Qasba Kanjrod area of Narowal.

The shooting took place when Iqbal was leaving the meeting, which was held at MPA Rana Manan's residence. Police said the minister received two bullets to his arm.

The attacker,  identified as Abid Hussain, was arrested and shifted to an undisclosed location.




Iqbal was first driven to the District Headquarters (DHQ) Hospital from where he was airlifted in a Punjab government helicopter to Lahore's Services Hospital.


After initial treatment at DHQ Narowal, Ahsan Iqbal has been moved to Lahore. Chief Minister Punjab @CMShehbaz receives him. Ahsan Iqbal sahib looks stable Alhumdulillah. pic.twitter.com/tBYPZ1UBNA

— Punjab 2013-18 (@Punjab13to18) May 6, 2018


Iqbal later took to Twitter and thanked Allah Almighty for surviving the vicious attack on his life.

"Allah Almighty hs been very kind. We request all friends and wellwishers to remember him their special prayers. — at Services Institute Of Medical Sciences," he tweeted.


Allah Almighty hs been very kind. We request all friends and wellwishers to remember him their special prayers. — at Services Institute Of Medical Sciences https://t.co/2oEcY6uATa

— Ahsan Iqbal (@betterpakistan) May 6, 2018


Earlier, State Minister for Interior Tallal Chaudry told a private TV channel that Iqbal was out of danger. The arrested suspect was between 20-22 years old, he said, adding that he was being interrogated.

"Ahsan Iqbal was targeted and shot in the arm," Asim Khan, a special aide to the politician, told AFP. "He is out of danger and being taken to a medical facility in Lahore. The attacker has been arrested."

Malik Ahmed Khan, a spokesman for the Punjab government, told AFP that Iqbal had been attending the meeting in his constituency in Narowal when he was shot in the right arm.

"The attacker was about to fire a second shot when police and people in the meeting overpowered him," Khan said, adding that Iqbal was undergoing surgery and confirming his life was not in danger.

The attack on Iqbal comes as the ruling party is struggling to regain its footing ahead of the coming general elections after a series of blows to its top leaders.

Former prime minister Nawaz Sharif was deposed by the Supreme Court last year over graft allegations and has been banned from politics for life, while foreign minister Khawaja Asif was also removed by the court late last month for violating election laws.

"Religious, ethnic, and political divide and oppositions are used for personal and sectarian interest. May Allah bless Ahsan Iqbal with life. No one will remain spared from this hatred. This menace of hatred will destroy everything. For God's sake, together we have to work for our country," Asif said in an Urdu tweet, condemning the attack on Iqbal.


مذھبی،نسلی اور سیاسی تفریق اوراختلافات کو جسطرح ذاتی اور گروھی مفادات کے لیے استعمال کیا جاتا ھے۔اللہ احسن اقبال کو زندگی دےاس آگ سے کسی کا دامن محفوظ نھیں رھے گا۔منا فرت کا عفریت سب کچھ تباہ و برباد کر دے گا۔خدا کے لئے ھم سب کو مل کرگھر درست کرنا ھے۔۔

— Khawaja M. Asif (@KhawajaMAsif) May 6, 2018


'Brains behind PML-N development agenda'

Iqbal, who was touted as a potential prime minister when Sharif was ousted last July, is a US-educated lawmaker from a political family long associated with the PML-N.

Considered the brain behind the party's development agenda, he previously headed up the planning ministry.

The elections -- which are due to be only Pakistan's second ever democratic transition -- have not yet been called, but are widely expected to be held in late summer.

They will pit the PML-N against the Imran Khan-led Pakistan Tehreek-e-Insaf party (PTI). Despite the setbacks facing the PML-N, the party has won a string of recent by-elections, proving it will likely remain a force in the next polls.

Condemnations

Prime Minister Shahid Khaqan Abbasi strongly condemned the assassination attempt. He called for an immediate report into the incident from the Punjab police chief.

Army chief General Qamar Javed Bajwa also condemned the attack on Iqbal and expressed best wishes for his early recovery, said DG ISPR Maj-Gen Asif Ghafoor in a tweet.


COAS condemns firing on Federal Interior Minister Ahsan Iqbal. Expresses best wishes for early recovery.

— DG ISPR (@OfficialDGISPR) May 6, 2018


The US also condemned the attack on Pakistan's security czar's life. "The United States condemns the attack on Interior Minister Ahsan Iqbal today. We wish him a speedy recovery," Ambassador David Hale said in a statement.

Punjab Chief Minister Shehbaz Sharif also denounced the heinous attack on the federal minister's life.


Chief Minister Punjab @CMShehbaz has strongly condemned the assassination attempt at the Federal Interior Minister and PML-N leader @betterpakistan

— Punjab 2013-18 (@Punjab13to18) May 6, 2018
Chief Minister Punjab has sought a report from IG Punjab & has directed the authorities to take action against the culprit.

— Punjab 2013-18 (@Punjab13to18) May 6, 2018


Pakistan Tehreek-e-Insaf (PTI) chief Imran condemned the attack.


Strongly condemn attack on Ahsan Iqbal today.

— Imran Khan (@ImranKhanPTI) May 6, 2018


Pakistan Peoples Party (PPP) Co-chairman Asif Ali Zardari condemned the attack, saying, "We have to put a stop to such incidents."

Party's chairman Bilawal Bhutto-Zardari also denounced the attack and prayed for the interior minister's speedy recovery.

Leader of the opposition in the National Assembly Khursheed Shah also condemned the assassination attempt on Iqbal. He also called for a detailed report into the brazen attack.

"This incident has raised a major question mark on the security situation in the country and there is a dire need to have foolproof security arrangements in place for the upcoming general elections," Shah added.

Leader of the Opposition in Senate Sherry Rehman prayed for the minister's early recovery and expressed solidarity with his family.

PTI leader Fawad Chaudhry also condemned the incident.


Central Secretary Information PTI Fawad Chaudhry Condemns Attack on PMLN Interior Minister Ahsan Iqbal (06.05.18) 3/3#PTI @fawadchaudhry @betterpakistan pic.twitter.com/AQHSvUez1G

— PTI (@PTIofficial) May 6, 2018


"I am shocked and saddened at the attack on Ahsan Iqbal. This is a cowardly act which will not deter him. I pray for his full and quick recovery. May Allah protect us all," Finance Minister Miftah Ismail has said in a tweet.


I am shocked and saddened at the attack on @betterpakistan Ahsan Iqbal. This is a cowardly act which will not deter him. I pray for his full and quick recovery. May Allah protect us all.

— Miftah Ismail (@MiftahIsmail) May 6, 2018


[/fbvideo]