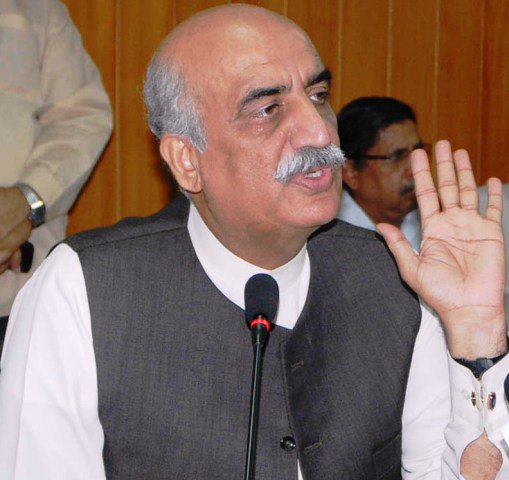 ---
ISLAMABAD: Opposition leader Khursheed Shah on Friday said Pakistan Tehreek-e-Insaf (PTI) Chief Imran Khan 'shot' himself in the foot by revealing his plans of backing an 'independent' group for the caretaker setup.

Speaking to the media after the National Assembly session, the Pakistan Peoples Party (PPP) leader said that it seems Imran subconsciously revealed his plans regarding the appointment of an independent group as heads of ministries.

'Imran has refused to share stage with Zardari during Jan 17 PAT-led protest'

"Imran is the type of king who revealed his own secrets," Shah said. "Imran himself hinted at the arrival of an independent group which gives signs that the new government will be formed with the support of an independent group," the leader added. Shah also said that Imran unintentionally let it slip that he fears that such an arrangement will "weaken the state."

The prime minister, on the other hand, thinks that the general elections are being held by "unknown forces," he said. "In 2013, the "mysterious forces" conducted elections in the shape of Returning Officers (ROs)."

Apparently, the April 29 Lahore rally has given a new confidence to the Pakistan Tehreek-e-Insaf (PTI) chief Imran Khan who advised senior party leaders that now they should start behaving like 'a government-in-waiting'.

Senior leaders of the party met at Imran's Bani Gala residence to review and deliberate on the PTI's overall performance in Lahore rally in particular and the country's political situation. They also reviewed the party's internal affairs and its strategy for the upcoming general elections.

"After the Lahore rally and presentation of historic 11-point reforms programme, we have strong reasons to believe that PTI is indeed a government in waiting.

Imran declares PTI a 'govt in waiting'

"This fact was clearly reflected through Khan's discussion with party leaders, as he advised all of us that we should act accordingly," a senior PTI leader, who attended the moot, told The Express Tribune.

He, however, refuted the impression that the internal discussions were about finalisation of party's shadow cabinet. "It's a bit early to think about it," he added.
COMMENTS (1)
Comments are moderated and generally will be posted if they are on-topic and not abusive.
For more information, please see our Comments FAQ