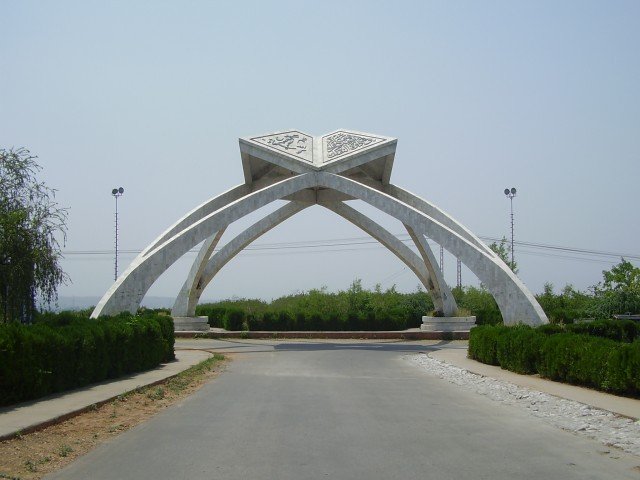 ---
ISLAMABAD: The House on Thursday unanimously adopted a resolution for renaming the Physics Department of the Quaid-i-Azam University, Islamabad, naming it after Muslim scientist Abu al Fath Abdul Rehman Al-Khazini.

The resolution, moved by Capt (retd) Muhammad Safdar, stated that it was necessary to make the world realise that the scientist was as brilliant as his teacher Abu Rayhan Al Biruni.

Interestingly, the government had itself moved to rename the National Centre for Physics by honouring Pakistan's first Nobel laureate Dr Abdus Salam in December 2016.

Capt (retd) Safdar had been leading a campaign to rename the Physics Department of the Quaid-i-Azam University. This department and NCP are two different entities. The House was later adjourned till 10:30 am on Friday.

Opposition lashed out against the government during the post-budget debate in the National Assembly. Key opposition leaders pointed out shortcomings in the proposed budget for financial year 2018-19 and termed the fiscal layout pro-rich.

Presenting an overview of the government's five-year tenure, PTI's Asad Umar said during this period, public sector companies' debt had swelled to Rs1,200 billion. According to him, the amount was Rs400 billion during the tenure of the PPP-led government.

Pointing out that these loans were all backed by sovereign guarantee, he said the budget did not mention anything about how these debts would be repaid. He reminded that when the government came to power, it paid circular debt amounting to Rs480 billion, This debt was again touching Rs500 billion and the budget document did not mention how it would be paid.

IAEA Director unveils Abdus Salam bust

Citing data compiled by Dr Hafeez Pasha, he said that the government showed national economy growing at a rate of 4.9 per cent which matched IMF's figures of 4.6 per cent. The government, he said, was claiming the growth rate would be 6.2 per cent.

"The national economy is in crisis and heading towards another bailout … This is visible to all. The current tax system, he said, was based on exploitation, benefitting only the rich," he said.

Umar said that the incidence of direct taxation had dropped from 1.8 to 1.3 per cent while indirect taxation had increased to 10.3 from 8.5 per cent.

As a result of indirect taxation, he said, consumers were forced to pay Rs19 per kilogramme on sugar, adding that the government had imposed 45 per cent import duty on milk.

The government, he said, had imposed 30 per cent import duty on cooking oil. This, he said, had been done to benefit a relative of an MNA from Shekhupura. He also pointed out that a Rs30 levy had been imposed on petrol which would increase its price by Rs6-12 per litre.

On the contrary, he said, the government had launched a tax amnesty scheme, allowing evaders to legitimse black money by paying just two per cent tax.

Dismissing the government's claims of presenting a business-friendly budget, he said that the investment-to-GDP ratio was just 16.4 per cent, which was the lowest in the past 50 years.

Citing the World Bank's index of 'doing business exchange', Pakistan ranked 107th during the previous government of PPP, which now slid to 147th position in the PML-N tenure.

Between 1998 and 2008, the country's total debt stood at Rs3,000 billion, swelling to Rs10,000 billion during the previous PPP government. The debt volume increased by Rs12,000 billion during the tenure of the incumbent government.

He said that during the same period (1998-2008), Pakistan's external debt registered an increase of $5 billion which swelled by $17 billion during the PPP's term. However, external debts had increased by $33 billion over the past five years.

Commenting on fast depleting foreign exchange reserves, he said that forex reserves currently stood at just $10.9 billion. Loans, he said, were being secured by compromising national security.

The current electricity shortfall was 7,000 megawatts which was the same in 2013.

Leader of the Opposition in the National Assembly Khurshid Shah said that there was a need to declare a water emergency in view of severe scarcity.

Contrary to government's claims, he said, four-hour-long outages were prevalent in the federal capital territory.

He said that the increase in petroleum levy would badly hit low-income groups.

Stressing the need for enhancing the tax-to-GDP ratio, he said that the affluent class needed to be brought under the tax net.

The Federal Board of Revenue (FBR) was an important institution and the next chairman should be appointed by the parliament to improve its performance and efficiency.

He pointed out that the decrease in exports and dwindling foreign exchange reserves posed a challenge to the national economy.

Khursheed Shah suggested that all political parties sit together and formulate a consensus economic policy to steer the country on the path of sustainable development.

Naeema Kishwar Khan of JUI-F said that special attention should be given to the reconstruction of tribal areas.

MQM-Pakistan's Khawaja Sohail Mansur called for introducing policies for creating more employment opportunities for the youth.

Chaudhry Muhammad Ashraf of PML-N said that major dams should be built to overcome power and water shortages.

Aasiya Nasir of JUI-F said that salaries of employees should be enhanced by at least 20 per cent to offset the price hikes.

She also talked about the plight of minorities in Pakistan and said members of minority communities fared worst over the past five years. Funding for the minorities division had been cut by 50 per cent while quota of five per cent in government jobs was not being adhered.

Arif Alvi of PTI said that the issue of provision of clean drinking water should be solved on a priority basis.

PML-N's Qaiser Ahmad Sheikh and Khalil George and PTI's Lal Chand Malhi and Hamidul Haq also spoke on this occasion.


COMMENTS (9)
Comments are moderated and generally will be posted if they are on-topic and not abusive.
For more information, please see our Comments FAQ