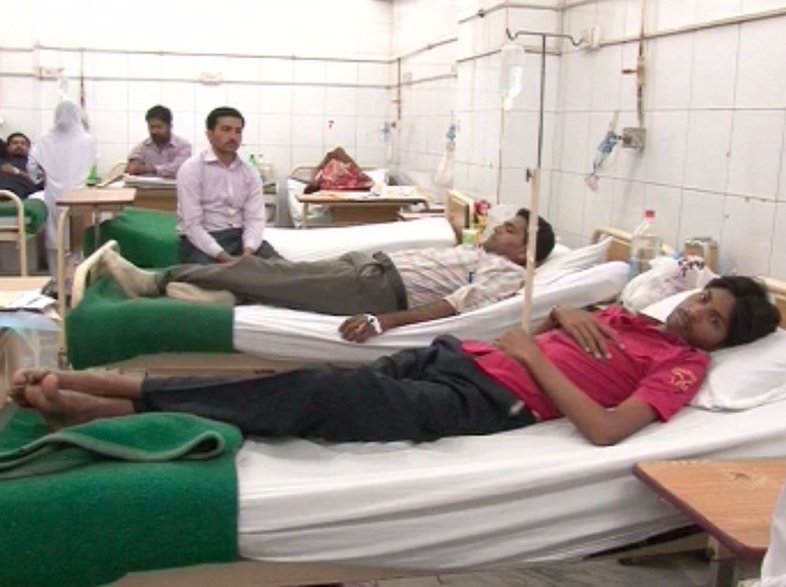 ---
MANDI BAHAUDDIN: Several patients, including a large number of children suffering from gastro-related ailments, were admitted to hospitals in Mandi Bahauddin. The sharp increase in temperature has caused an increasing number of gastro cases across different parts of the city.

Facilities in Government Children Hospital have fallen short as a result of the influx of kids. Officials said each bed of the hospital is accommodating up to three patients.

They added Government Children Hospital is receiving over 1,000 patients every day; most of which were reported to have been infected by gastrological diseases. During the past week, the hospital's OPD received over 5,000 patients.

The hospital administration is struggling to provide beds to the new patients, while attendants and parents of the children helplessly sit on the floor because due to the overcrowding.

The hospital administration told Express News that the hospital is fully equipped to treat all gastro diseases. Checkups, treatment and prescription medicine is provided for most patients during OPD timings, the administration revealed.

On the up: As heat increases, so do gastro patients

Majority of the patients were admitted to Government Children Hospital where the number has exceeded the maximum.

A visit to the health facility by Express News revealed that as many as three kids were forced to share one bed, while the provided medical facilities were not satisfactory.

Hospital sources told Express News that in wake of major gastro outbreak due to rising temperatures, the number of patients continues to grow with each passing day.

When contacted, an official of Government Children Hospital, requesting anonymity, told Express News, "Due to increasing number of patients and scarce space, we are treating three patients on one bed."

He added, "The attendants accompanying the patients are forced to sit on floor." The official maintained that the hospital was equipped with all facilities to treat gastro patients.

Meanwhile, health experts said the recurrence of these diseases could be curbed through minimal precautions. They believed that extreme summers may increase the incidence of dysentery and nausea among children. Major causes of gastro include substandard feeders, unhygienic conditions, high prevalence of flies and the increased use of toxic, contaminated food items.

They said the authorities are running awareness campaigns every year on how seasonal infections can be avoided. However, they acknowledged a lot more ought to be done to obtain desired results.

They added public awareness was needed on the consumption of clean drinking water and good quality food.

Earlier in 2017, the health department's official record revealed that at least 193,117 acute diarrhea patients (viral gastroenteritis) were admitted to government-run hospitals in Faisalabad, Lahore, Multan, Bahawalpur, Chakwal, Gujranwala, Hafizabad, Jhelum, Kasur, Khanewal, Layyah, Mandi Bahauddin, Narowal, Okara, Pakpattan, Sahiwal, Sargodha, Sheikhupra, Toba Tek Singh, Vehari, Bhakkar, Chiniot, Dera Ghazi Khan, Jhang, Lodran Mianwali, Muzaffargarh, Nankana Sahib and other cities from January 1 to  May 11, 2017.

The highest number of patients suffering from the disease was reported in Lahore followed by DG Khan, Sheikhupura, Multan, Bahawalpur and Faisalabad.

Published in The Express Tribune, May 3rd, 2018.