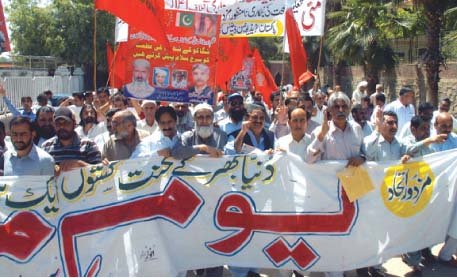 ---
LAHORE: Anti-worker and flawed policies of the rulers have pushed labourers, farmers and workers to the wall. It has become impossible for the common man to make ends meet as prices of all essential commodities and utilities have skyrocketed.

Leaders of different opposition parties expressed these views in their May Day messages on Tuesday.

Pakistan Tehreek-e-Insaf (PTI) senior leader Ejaz Ahmad Chaudhry has demanded of the government to announce a minimum wage of Rs25,000 and resolve basic issues of workers and farmers on priority. He highlighted that his party salute to the martyrs of Chicago and was committed to continuing its struggle for the rights of labourers and farmers.

"Swelling inflation has crushed workers and labour class, he remarked. "Now the time has come that labourers and workers should stand up for their rights and support the PTI which is struggling for their rights for past 21 years," he said.

"The rulers have killed the farming community economically as no farmer is getting even its input farming cost. All the policies of the Pakistan Muslim League-Nawaz (PML-N) government are anti-worker but they should realise that no country in the world could flourish by snatching basic rights of its labour community," he maintained. He said labourers and workers have a pivotal role in the development of Pakistan but their wellbeing was not even on the priority list of the rulers.

Never-ending struggle: Sindh's workers march for their rights

Pakistan Muslim League-Quaid-i-Azam (PML-Q) President Chaudhry Shujat Hussain and senior central leader Chaudhry Parvez Elahi were of the views that the PML-Q government had undertaken historical works for workers and promise to continue their legacy in future. They said industrial and agricultural workers in Punjab were getting prosperous due as the government was offering free education, free medicines and social protection. Separate social security hospital and labour colonies were built in Punjab.

Parvez said the PML-Q government worked day and night for the working class of the country, undertook legislation for providing relief to the workers earlier and would also do the same in the future as well so that the working class get more relief.

Pakistan Awami Tahreek (PAT) chief Dr Tahirul Qadri demanded full implementation of all labour laws of the land which were under suspension ever since the emergence of Sharifs on the political landscape. He asked end of contract system in private sector institutions and restoration of all benefits for workers and employees. Qadri also paid homage to the martyrs of May 1 who laid down their lives for the cause of working class. "Now it is up to the working class to unite for their rights and struggle for to ensure complete implementation of labour laws in Pakistan which were under suspension since last three decades," he said.

He said working class must reject disqualified Sharif and his party that played a pivotal role in a usurpation of rights of working class by encouraging contract system in private establishments. He requested the Chief Justice of Pakistan to take suo motto notice of long violated labour laws and ensure their implementation of the sake of millions of oppressed workers and businesses employees.

Published in The Express Tribune, May 2nd, 2018.