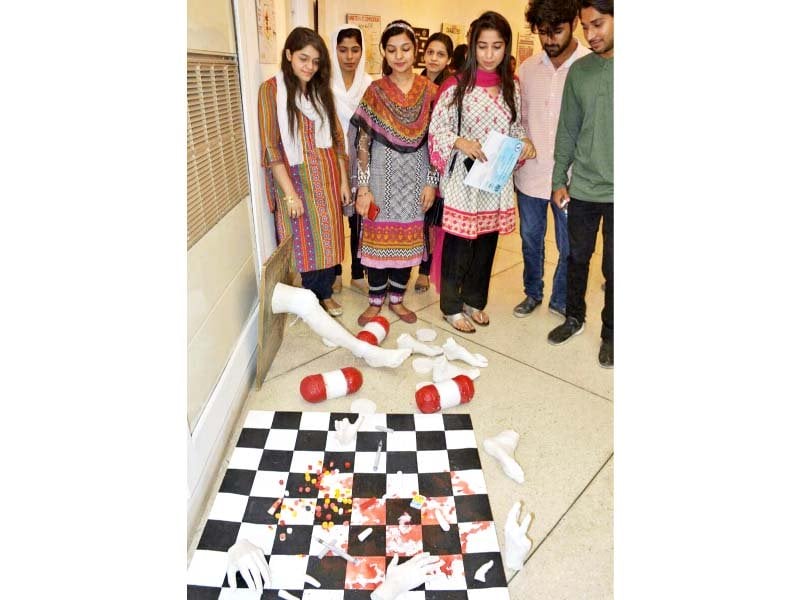 ---
LAHORE: It is estimated that with basic management and care of diabetes, up to 80% of all leg and foot amputations can be prevented, said Lahore Diabetes and Footcare Clinic In charge Dr Muhammad Arshad Siddiqui.

He expressed these views, at the Diabetes Poster Exhibition at Alhamra Art Gallery on Monday. The objective behind the exhibition was to raise awareness among doctors, healthcare providers and policy makers.

More than 36 million people are patients of diabetes in Pakistan; the number is expected to double by 2030, he informed.

Diabetes and the complications associated with it are extremely burdensome on people's health and economies. In some countries, treating feet complications accounts for 15 to 25% of total health resources. This becomes a huge waste of already scarce medical resources, he lamented.

Mobile clinics to help battle diabetes

More than half of all lower limb amputations due to diabetes can be prevented with adequate detection and care, he stated.

"Small investments in prevention and education can mean fewer amputations, an increased quality of life for individuals and dramatic reductions in the cost of healthcare," he said.

People should be encouraged to regularly examine their feet, while also scrutinising the inside of their shoes before putting them on. Further, patients should avoid walking barefoot, should don comfortable footwear and maintain the nails and skin on their feet, he listed.

The health department and policy making institutes should sit together and draw up a comprehensive plan to prevent the incoming burden of preventable diabetes and its complication, said King Edward Medical University Vice Chancellor Prof Amir Zaman Khan.

"People with diabetes need to take an active role in their care," said Dr Waqas Ahmed, a medical officer at the clinic. "However, they also require support from the healthcare system on how to effectively manage their disease. Timely access to proper medical advice and treatment is also vital," he added.

At the end of the competition King Edward Medical University Dean Prof Irshad Hussain Qureshi distributed cash prizes and shields among the winners and best performers at the competition.

Published in The Express Tribune, May 1st, 2018.