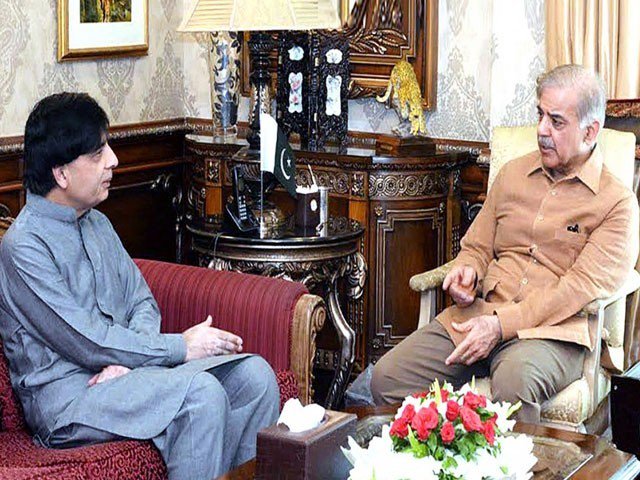 ---


Pakistan Muslim League-Nawaz (PML-N) President and Punjab Chief Minister Shehbaz Sharif has assured former interior minister Chaudhry Nisar Ali Khan that all his grievances with the party leadership will be redressed soon.

The two PML-N leaders discussed matters pertaining to upcoming elections and overall political situation of the country in the aftermath of lifetime disqualification of ousted prime minister Nawaz Sharif as a result of the Supreme Court's ruling.

This was the third meeting between the two leaders in a week, Express News reported.

Reassuring the disgruntled PML-N stalwart, Shebaz said the party needed the former to continue serving the masses and contributing to development projects for the progress and prosperity of common people.

Hawks and doves divide PML-N



"We want this journey to continue and for that, it's vital to remove all differences within the party ranks," he added.

The meeting takes place as the ruling party in the centre and Punjab is once again locked in an internal division between 'hawks' and 'doves' regarding Nawaz Sharif's lifetime disqualification by the Supreme Court earlier on Friday.

PML-N's new president Shehbaz and his allies reportedly believe that the party should wait for the accountability court's decision instead of increasing confrontation with the judiciary after the apex court's verdict.

Who asked you for party ticket, Nisar asks Maryam

On the contrary, Sharif's team – with his daughter Maryam Nawaz at the forefront – believes the party should continue with its aggressive posturing highly critical of the judiciary.

Yesterday, Chaudhry Nisar strongly reacted to a recent statement from Maryam that it was Nawaz Sharif's prerogative to award party ticket to the former interior minister, saying she had no authority over the matter.

"Who asked for a ticket?" said Nisar on Saturday in reaction to Maryam's statement. "It seems like giving me a [party] ticket is the biggest problem of the upcoming general elections."

According to party sources these back to back meetings were evidence of Shehbaz Sharif's support for Chaudary Nisar Ali Khan who at one point seemed to be parting ways with PML-N due to differences with Nawaz's policies.

The two also share the same views regarding Nawaz Sharif's policy, he revealed. They further said that Nisar has been advised to abstain from giving opposing statement regarding the party's policy to keep the balance of power.

They added that Nisar during the meeting also shared his concerns regarding some party leaders giving statements directly contradicting him and forcing him to reply to them in public. Nisar is and has been assured that Shehbaz Sharif will keep the house in order, said the source.