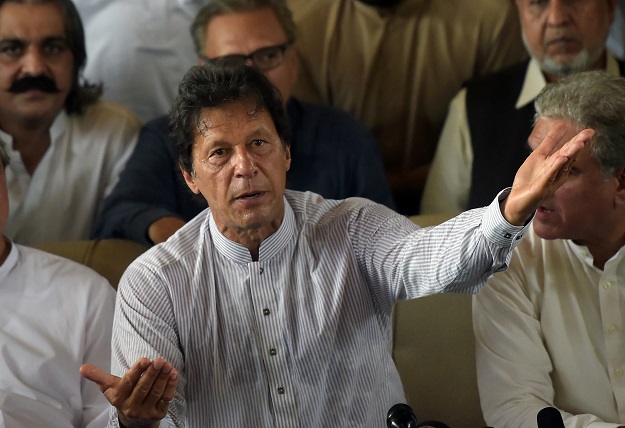 ---
ISLAMABAD: The Pakistan Tehreek-e-Insaf (PTI) on Saturday finalised its nominees for caretaker set-up in Punjab and at the Centre, but did not disclose their picks for the posts of the interim prime minister and interim chief minister of Punjab.

Refusing to share names of the three nominees shortlisted by the party for interim prime minister, PTI's vice-chairman Shah Mehmood Qureshi told The Express Tribune that he would hold a meeting with leader of the opposition in the National Assembly Syed Khurshid Shah in a couple of days and discuss potential nominees with him.

Similarly, Leader of the Opposition in the Punjab Assembly Mian Mehmoodur Rashid said he would discuss the PTI nominees for the post of interim chief minister of the province with leaders of other opposition before holding final consultation with the government.

Although top leaders remained tight-lipped over the names finalised by the PTI, a source privy to the developments said "individuals of utmost integrity from judiciary and bureaucracy" had been shortlisted.

It was decided during two consecutive meetings of senior PTI leaders in Bani Gala presided over by party chairman Imran Khan.

Abbasi likely to invite political parties over caretaker PM

Later, party's spokesperson Fawad Chaudhry told media that the PTI would kick off its formal general elections campaign by holding a massive rally in Lahore by the end of this month.

He said so far, the party's parliamentary board had received over 2,000 applications for party tickets from all over the country. He said the last date for online application for party ticket would be May 4.

"Delimitation process will conclude on May 3," he said.

He said the PTI had a constitutional role in finalisation of interim set-ups in Khyber-Pakhtunkhwa and Punjab. He said PTI would finalise names of potential party candidates by the end of next month.

Answering a question about seat adjustment with the PPP on some of the constituencies in Punjab, Chaudhry said it would amount to committing political suicide for the PTI. He said the PTI would contest on each and every constituency across the country.

To another question, he said electables were joining the PTI because they believed that the party would emerge victorious after the 2018 elections.

PPP contacts PTI over nomination for caretaker prime minister

He said former prime minister Nawaz Sharif and former president Asif Ali Zardari always helped each other in the past. He said for the sake of coming to power at every cost in 2008, PML-N cabinet members were sworn in by Pervez Musharraf and later the party formed an alliance with the PPP. He insisted the PTI supported all actions and decisions of the apex court.

"PML-N is collapsing and more of their people will join us soon," he maintained.

 New additions

In a related development, three more leaders, including PML-N MNA from Sheikhupura Bilal Ahmed Virk, announced joining the PTI.

Virk announced his decision of joining the PTI following his meeting with Khan at Bani Gala.

Reposing full confidence in Khan's leadership, Virk criticised the PML-N leadership, maintaining that they had disgraced parliament and state institutions.

Former MPA and state minister Chaudhry Zaheeruddin Khan and PML-N's Nasir Musazia, who was a runner-up candidate from NA-4 in 2013 general elections, also announced joining the PTI on Saturday.
COMMENTS
Comments are moderated and generally will be posted if they are on-topic and not abusive.
For more information, please see our Comments FAQ