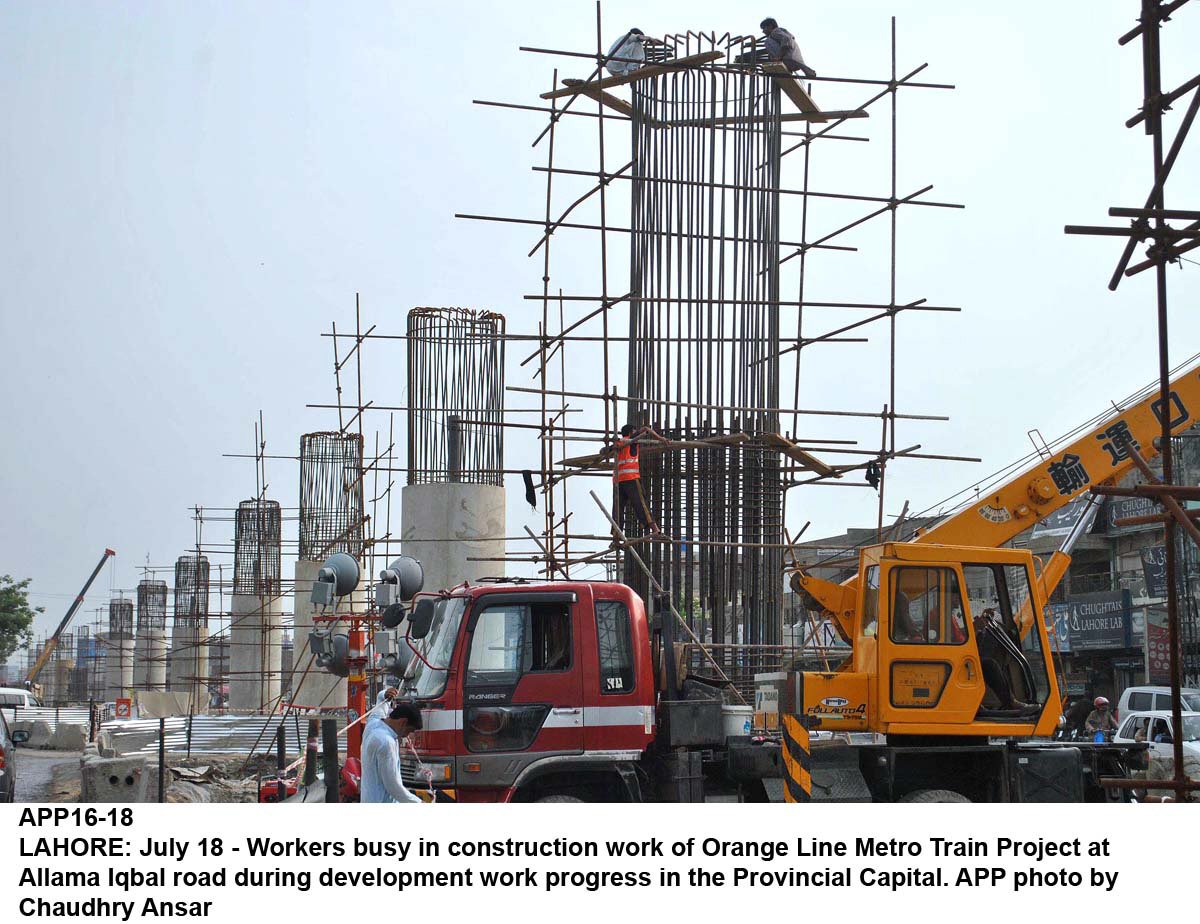 ---
LAHORE: The last three train sets for the Lahore Orange Line Metro Train (OLMT) reached on Wednesday, concluding the import of all the 27 train sets in the city.

Punjab Chief Minister's Adviser and the OLMT Steering Committee Chairman Khawaja Ahmad Hassaan has said out of total 27 train sets, 14 train sets have been parked at metro train depot at Dera Gujjran and rest of the trains were parked at metro stabling yard at Ali Town.

Speaking to media persons after project's weekly progress review meeting on Wednesday, he highlighted that work of laying rail track and installation of electrical and mechanical equipment are underway in full swing. Chinese contractors, CR-NORINCO, have employed additional workforce for early completion and partial trial run of the project, he added.

He said the Parks and Horticulture Authority (PHA) has been tasked with designing ornamental lightening system for illumination of the track as per international standards. The train will be operated with electricity and construction of an electric sub-station near University of Engineering and Technology (UET) at Grand Trunk Road has been completed for this purpose.

Hassaan said the Lahore Electricity Supply Company (LESCO) has already completed development works of the sub-station and assured to make the sub-station functional as and when required.

He highlighted that first four metro stations from Dera Gujjaran to Mehmood Booti would be completed during the current week while the target has been set for completing Pakistan Mint Station and Nichelson Road stations by the end of next week. More than half of the track-laying work at this stretch has already been completed, he maintained.

Meeting participants were told that so far 86.41% civil work on the project has been completed. The progress of work on package-I (from Dera Gujjaran, Grand Trunk Road to Chauburji) have reached 91.27% on package-II (from Chauburji to Ali Town) 81.05%, on Depot near Dera Gujran 87.10% while on Stabling Yard near Ali Town it was 88.20%. Progress on electrical and mechanical work on the project had been 53.92%.

Hassaan directed for completing, rehabilitation and reconstruction of roads, affected by the ongoing civil work, by the end of this month for ending the sufferings of the general public as well as the local traders. He urged the relevant departments to finalise shifting of utility services for this purpose before the carpeting of roads as road cuts will not be allowed after the construction of roads is finalised.

Traffic Engineering and Transport Planning Agency (TEPA) Chief Engineer, senior officials of the Lahore Development Authority (LDA), LESCO, WASA, PTCL, Sui gas, traffic police, Pakistan Railways, Rescue 1122, Civil Defence and other concerned officials attended the meeting.

Published in The Express Tribune, April 12th, 2018.