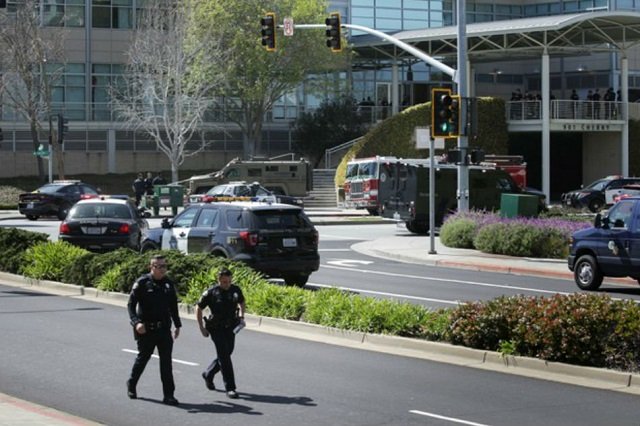 ---
SAN FRANCISCO: Silicon Valley may tighten security after a shooting at the YouTube headquarters stunned the San Francisco Bay Area this week, but do not expect armed guards to take up protective posts around tech companies' campuses.

They want broader integration with the community rather than militaristic protection, Valley security experts say.

The shooting on Tuesday at the headquarters of YouTube, a part of Alphabet's Google led the video streaming service to say on Wednesday it would increase security at offices worldwide "not only in the near term but long term."

China eyes 'black tech' to boost security as parliament meets

YouTube did not provide details, but better security need not block out the public or frighten employees, planners said.

More lobbies, hedges and other features to slow an approach would improve security without requiring armed guards, for instance, security experts said.

Emerging technologies including robots, drones, and software that analyses video footage for anomalies could allow companies to expand surveillance without having to adopt intrusive inspections, experts said.

"The focus is on providing a really good hospitality experience," allowing workers easy access, rather than "airport style" brawn, said Bernhard Mehl, chief executive of Kisi, whose smartphone-based security system is used by several San Francisco startups.

Companies do not want "to make their offices look like Fort Knox," despite the threat of violent incidents, he said. "The last thing is 'How can I deter people?'"

Police say the shooter, who wounded three people after entering through a parking garage and opening fire in an outdoor dining area, held a grudge against YouTube. In online postings, she criticized what she viewed as YouTube's censorship of her videos about veganism and fitness. One victim remained hospitalized in serious condition Wednesday.

Security guards, badge-scanning, and some video surveillance are standard practices across industries and in some government buildings. But precautions employees may find intrusive, including armed officers, additional checkpoints and well-fenced parking lots, are less common in tech.

Robert Dodge, executive vice president of corporate risk services for global security services provider G4S, which he said has worked with many tech companies, said businesses want to limit inconvenience. Security "is there to enable business," he said. And armed guards cost about 50 per cent more, he added.

Facebook, a social media company that has also faced censorship complaints, declined to say whether it would increase security. "The safety of our employees is paramount, and we work hard every day to maintain a safe and secure environment for our community," it said in a statement.

Smugglers use drones to transport iPhones into China

Jeremy Németh, associate professor of urban and regional planning at University of Colorado Denver, said that recent attacks on public forums are forcing a rethinking of security but that there is a reluctance to exchange civil liberties for security "particularly in a liberal environment like the Bay Area."

Renderings of new Google campuses, for instance, include retail and recreation areas where the public can dine and play. That creates a healthy environment, he said. Security that is too intrusive "increases the fear they're trying to reduce," he said.