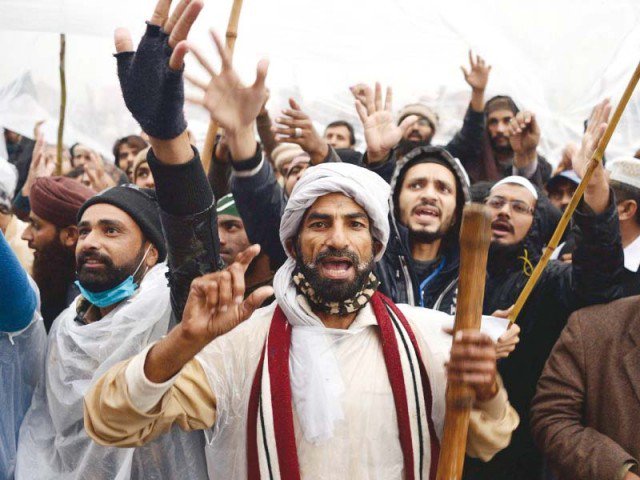 ---
The members of Tehreek-e-Labbaik Ya Rasool Allah (TLYRA) have once again taken to the streets protesting the government's failure to fulfil their demands which were part of the negotiation deal that helped end the 21-day Faizabad sit-in last year.

Lahore's Mall Road has been taken over by members of TLYRA, causing severe inconvenience to civilians.

Faizabad sit-in: Arrest warrants issued for Khadim Rizvi in 14 more cases

Last year, TLYRA chief Khadim Hussain Rizvi laid siege to the federal capital protesting against an amendment in the Khatm-e-Nabuwwat clause – explained by the government as a 'clerical' error. The demonstration ended after a negotiation document was signed between the government and protestors placing the issue to rest.

The deal struck between protestors and the government involved resignation and removal of the law minister who proposed the changes, release of all TLYRA workers and supports who were arrested during the Faizabad sit-in time period, and all cases pending against the TLYRA to be disposed.

Khadim Hussain Rizvi declared absconder

Earlier, Khadim Hussain Rizvi and Pir Afzal Qadri announced that if the negotiations weren't respected and if the government fails to fulfill their part of the deal, then by April 4, the party may announce a country-wide protest in multiple cities.

Due to the sitting protest, Lahore's Lower Mall and Circular Road are swamped with traffic which has resulted in severe discomfort and difficulty for residents of the city.