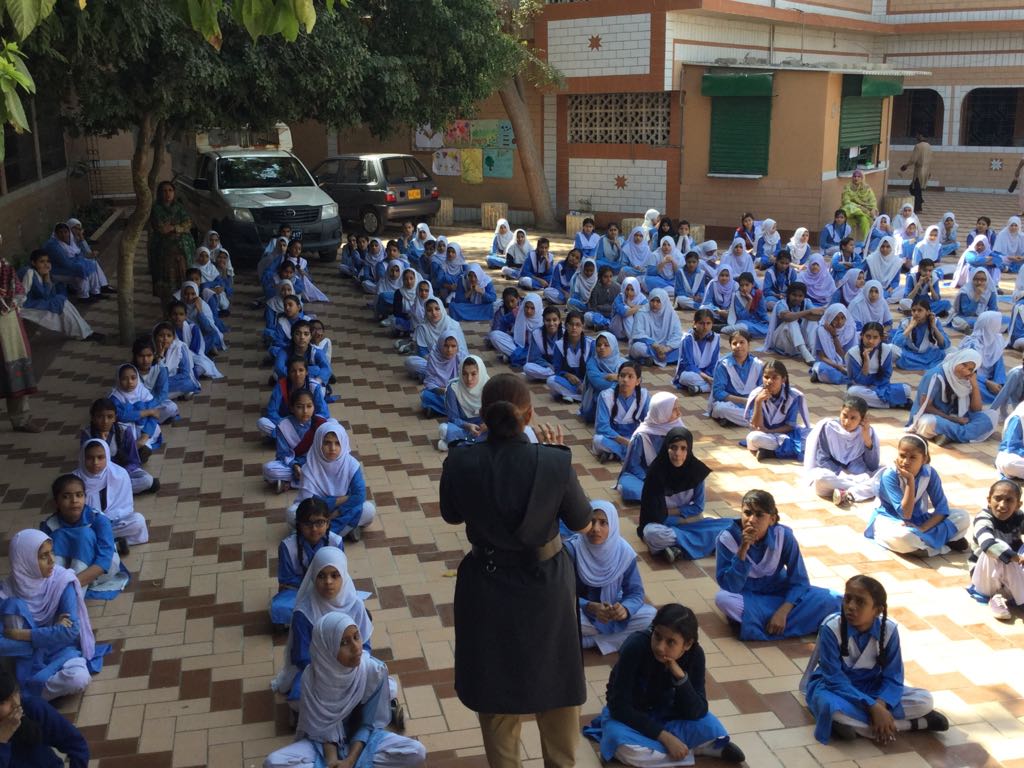 ---
KARACHI: In a world of #MeToo and Zainabs, the Sindh police is taking steps to ensure that no woman or girl will become victim to violence.

Female police officers started martial arts training on Thursday at schools and colleges to educate children about self-defence.

"Increasing our strength is very advantageous for us. We have started martial arts training at schools and colleges to teach self-defence," said South Women and Children Police South SHO Ghazala Perveen. "We have also started patrolling during school and college timings," she explained, adding that they are also working on how to secure the children and deal with children-related cases.

Parents of school-going children appreciated the female police officers' efforts to train their children. "There was no sense of self-protection until the media highlighted the issue and the government and law enforcers should take steps in relation to this," said Sajida Adnan, the mother of a fifth grader at a missionary school in Karachi. "It was surprising for us when my daughter came to me and started trying to give me self-defence training when she came home from school."




College students are also welcome at the women's police station. "At least someone is here to support us," said Bisma Wakeel, a first year student who frequently uses public transport for college. "Most of the time, bus drivers allow male passengers in the ladies' compartments, which leads to sexual harassment but at least now we have the [ability] to deal with them."

Female police officers also searched passenger buses on Thursday after receiving complaints about male passengers sitting in the female sections.

Police Offer: Free bike riding classes for women 

On Wednesday, the Sindh government finally approved a summary to rename Women's Police Stations to Women's and Children's Police Stations, along with increasing the strength of officers and personnel at these stations.

"The government of Sindh is pleased to re-designate or rename the Women Police Stations as Women and Children Police Stations with a strength shown against each in terms of clause(s) of sub section (I) of Section (4) of the Code of Criminal Procedure 1898, with immediate effect," read a notification issued by Home Secretary Qazi Shahid Pervez on Wednesday.




"The jurisdiction of the Women and Children Police stations shall remain the same as already notified. Moreover, the requirement of human resources or strength will be met from the existing or available resources of the ranges or zones concerned."

According to the notification, all seven women and children police stations across the province - West Zone Karachi, East Zone Karachi, South Zone Karachi, Hyderabad range, Mirpurkhas, Shaheed Benazirabad range and Larkana range - would have a total 28 inspectors, 56 sub-inspectors, 112 assistant sub-inspectors, 350 head constables and 854 constables, while each police station would have four inspectors, eight sub-inspectors, 16 ASIs, 50 head constables and 122 constables.

The decision to rename the police stations was made during a meeting in January chaired by Chief Minister Murad Ali Shah, however, Establishment AIG Naeem Ahmed Shaikh issued a notification in the first week of March stating that in order to meet the requirement, it was decided that as an initial step, women's police stations already working at range or zonal levels will be renamed women and children police stations with additional staff to cope with the amount of work.




He added that the additional staff and investigations in cases involving women and children need to be specialised so it is important to post and retain willing and experienced officials for the sensitive task.

Sheikh, in his notification, had also stressed that to motivate the police officers and personnel posted at women and children police stations, an incentive of one basic pay for the 2017-18 financial year may be given as an additional allowance.

"This is a good step and will help citizens deal with the police in women and children's cases," East Zone police chief DIG Zulfiqar Larik told The Express Tribune. "A majority of cases of women and children are [sensitive] and normal police stations are not suitable to deal with them."

Women on Wheels to make an entry at PSL semi-final

DIG Larik lauded the move even though there were fewer complaints made at women's police stations. "Only female police officers will be posted to these police stations," he explained. "The police stations are the same but their duties are now doubled." The officer said that civil society, non-governmental organisations and the training DIG, who is the liaison officer of these police stations, are in coordination and modules are being designed for these police stations.


COMMENTS
Comments are moderated and generally will be posted if they are on-topic and not abusive.
For more information, please see our Comments FAQ