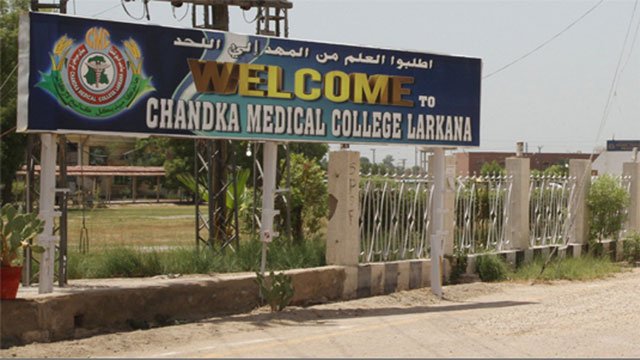 ---
LARKANA: A senior doctor of Chandka Medical College Hospital's (CMCH) neurosurgery department, Dr Ishrat Raza Mangi, was severely beaten by the attendants of a road accident victim who died after he was shifted to the hospital in critical condition Saturday night.

A boy, Wajid Ali Totani Chandio, reportedly fell off a moving bus filled with guests of a marriage ceremony while he was dancing on the roof. He sustained severe injuries on his head and legs and was shifted to the hospital where he was examined by Dr Mangi.

The attendants were asked to arrange three pints of B positive blood so that an emergency operation could be done. However, they could only arrange two pints. The patient, who was the groom's brother, expired in the meantime.

After Wajid's death, his attendants accused the doctor of negligence and started thrashing him. Meanwhile, police staff deployed at the casualty ward reportedly fled, leaving the doctor at the mercy of his assailants.

Later, the family lodged a complaint with the police who detained the doctor at the Civil Lines police station. According to doctors, SHO Ubaidur Rahmen Dharejo also mistreated Dr Mangi at the police station.

Nurses thrash doctor over 'sexual harassment' in Mirpurkhas

Upon hearing news of Dr Mangi's arrest, the Pakistan Medical Association (PMA) held a demonstration along with the CMCH paramedical staff, which resulted in the release of Dr Mangi.

Later, the Larkana SSP formed a committee to lodge an FIR against the protesters.

Reacting to the incident, members of the PMA Larkana chapter Dr Ikram Tunio, Dr Shah Baig Chandio, Dr Mahboob Shah, Dr Anil Kumar and others said the doctor on duty was harassed for no reason and the police opted to become spectators instead of providing security to the doctor. Dr Mangi was locked up without any legal cover, the doctors said.

They demanded that the Civil Lines SHO be arrested and the Rangers be deployed at CMCH. They threatened to go on strike if their demands were not met.

On the other hand, Wajid's family claimed that doctors on duty showed negligence, which resulted in the boy's death.
COMMENTS
Comments are moderated and generally will be posted if they are on-topic and not abusive.
For more information, please see our Comments FAQ