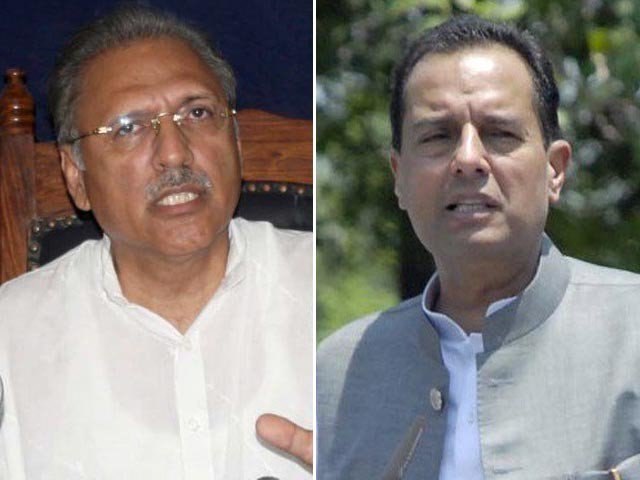 ---


Pakistan Tehreek-e-Insaf's (PTI) Arif Alvi and Pakistan Muslim League-Nawaz's (PML-N) Capt (rtd) Safdar exchanged heated words in the national assembly on Thursday.

With other parliamentarians chanting profanity at each other as well.

During the session, while discussing the issue of dams in the country, Safdar pointed  out the decision of the Supreme Court in the Panama Papers case that led to the disqualification of  former prime minister Nawaz Sharif .

He said that land for the Bhasha dam had been acquired for Rs28 billion, however, owing to Nawaz's removal from his post work on the project had stopped.

"Apart from the Bhasha dam, work is in progress on other projects such as Dasu and Tarbela, and Chief Justice of Pakistan Saqib Nisar should also pay heed to these projects," he added.

Unruly behaviour: Aggressive stare leads to scuffle in courtroom

"Your [Justice Nisar] decision to remove Nawaz has had a detrimental effect on Pakistan and has derailed development," he added.

Consequently, those remarks against the judiciary irked Alvi along with other PTI parliamentarians who registered their protest against Safdar's remarks.

"You can't defend thieves in this house," Alvi quipped.

To this Safdar replied by saying that "all those who are protesting against my remarks are part of a mafia".

As a result, Alvi retorted that "stop it with your nonsense you lackey of thieves".

"You have no licence to advocate for the Supreme Court," PML-N MNA Abdul Manan replied to Alvi. "Yes I do," the PTI parliamentarian said.
COMMENTS
Comments are moderated and generally will be posted if they are on-topic and not abusive.
For more information, please see our Comments FAQ