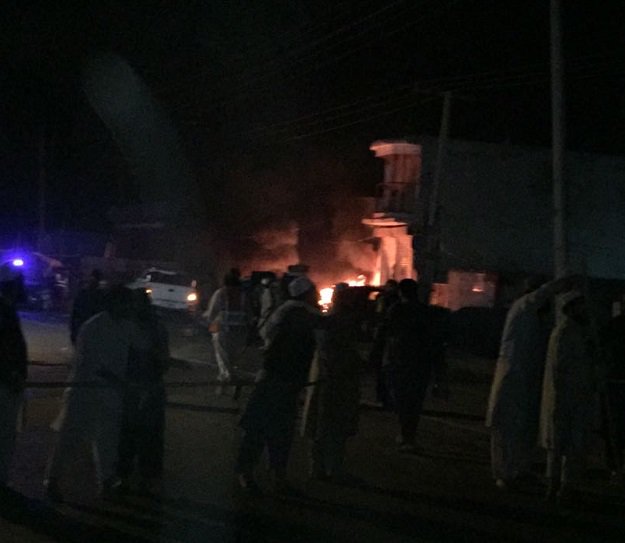 ---
LAHORE: Investigators on Thursday confirmed that it was a suicide blast that ripped through a police check post on Wednesday night near Tableeghi Jamaat's congregation at Raiwind on the outskirts of Lahore as another victim of the blast succumbed to his injuries taking the death toll to 10.

At least nine people including five policemen were martyred while 35 were injured in the explosion that reportedly occurred at a checkpoint while policemen were in the middle of a shift change. Eyewitnesses and locals said they had heard a sudden blast that echoed for a distance of three to four kilometres.

The blast was followed by screaming and fire. Right after the blast, people near the site had rushed to help the victims and contacted emergency services. A rescue official had said the first caller told them that it was a cylinder blast.

On Thursday another victim of the blast died in the Lahore General Hospital. The deceased was identified as head constable Naeem Akhtar. At least thirty three injured victims, 18 of them policemen including ASP Raiwind and SHO Sundar, are still under treatment at the hospital.

Funeral prayers of the martyred police officials were also offered at the Police Lines Qila Gujjar Singh.

Nine martyred, over a dozen injured in Raiwind suicide attack

Punjab Governor Rafique Rajwana, Chief Minister Shehbaz Sharif, Corps Commander Lahore Lt Gen Amir Riaz, DG Rangers Maj Gen Azhar Naveed Hayat and Punjab Inspector General of Police (IGP) Arif Nawaz were among the hundreds of people who participated in the prayers.

A guard of honour was also presented to the martyred police official after the funeral. The funeral prayer of sub-inspector Muhammad Aslam and SI Manzoor Ahmad were also offered at their native villages Lakhowal and Fareed Colony respectively.

Lack of safety measures: Two killed, four injured in cylinder blast

The investigators including officials of the Punjab Forensic Science Agency Experts (PFSA) and the Counter Terrorism Department (CTD) remained busy in collecting evidences from the crime scene.

They collected explosives, ball-bearings, shrapnel and body parts of the suicide bomber and sent these evidences to the PFSA for analysis. The investigators also remained busy in collecting digital evidences including the CCTV footages and geo-fencing of the area.

The initial investigations of the CTD suggest that at least 6-7 kg of explosives was used in the bomb.

A suicide attack

Speaking to media after funeral prayers, Punjab IGP Arif Nawaz confirmed it was a suicide blast.

"The attacker was trying to enter the congregation and exploded himself when he was stopped by officials on the picket. The incident occurred when a briefing was going at the duty shift," he said.

The IGP said investigators were busy in investigating further details of the attack that will be shared soon with media. On a question about future of the Pakistan Super League (PSL) semifinal matches after the incident, he said the police are fully prepared to provide security for the event.

"However, a final decision will be made after consultation with various departments," he said in reference to the matches to be held in Lahore respectively on March 20 and 21,

Nawaz said they had no specific threat alert about this attack. "We had made suitable security arrangements to counter the other threats," he said.

"Punjab Police are playing role of frontline soldier in war against terrorism and extremism and bold officers and officials of the force will not avoid any sacrifice for the protection of property and lives of people in future," he said.

FIR registered

An FIR against the blast was also registered in the CTD Police Station of Lahore on a complaint of Inspector Abid Baig under section 302 (murder), 324 (attempt to murder), 353/186 (interference in public affairs), 34 (common intention), 109 (abetment), 427 and 120-B of Pakistan Penal Code (PPC), seven of Anti-Terrorism Act (1997), 3,4 of Explosives Act.

"The suicide bomber, along with his three accomplices on abetment of Muhammad Khurasani, Fazlullah members banned organisation TTP Fazlullah, by exploding himself has committed the offences of murder, attempt to murder, interference in government affairs, terrorism and others," it said.