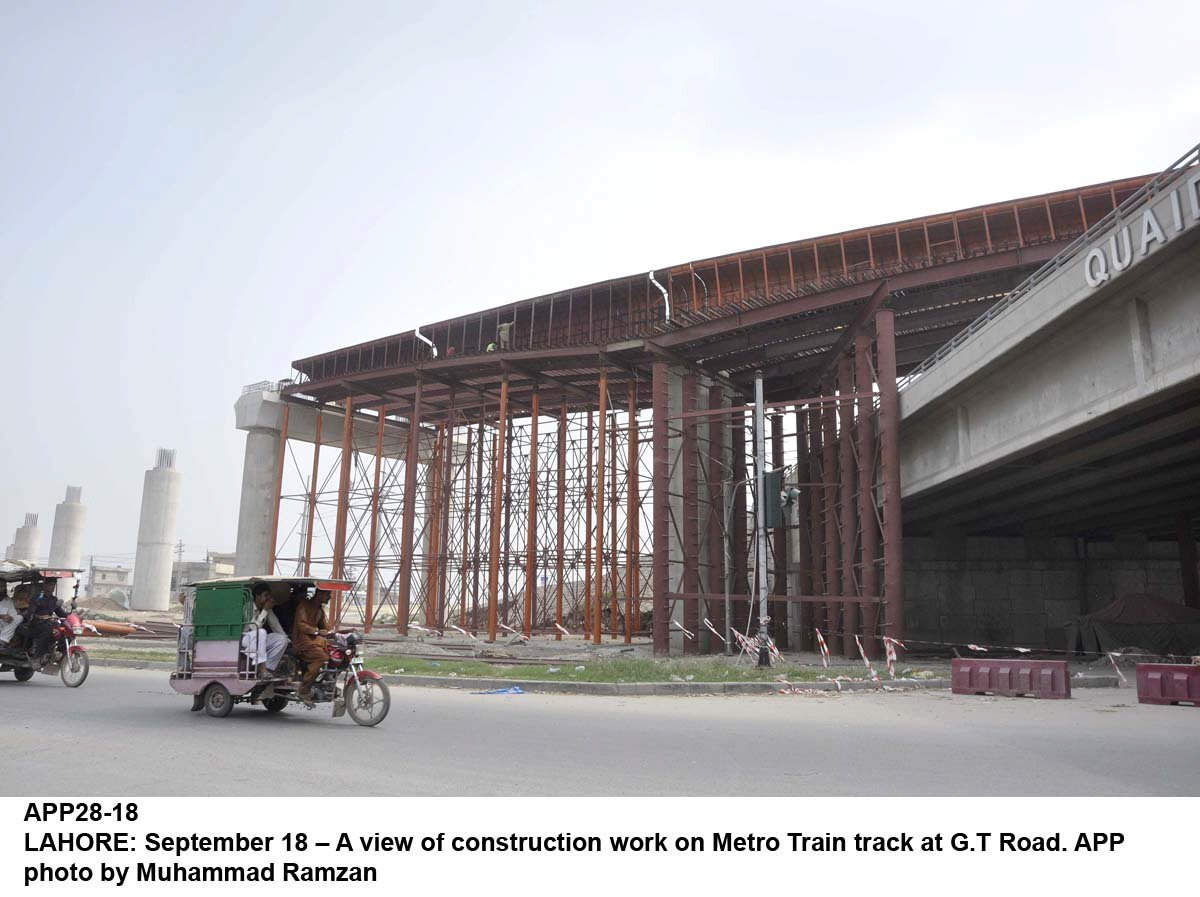 ---
LAHORE: After completion of first four elevated metro train stations during the current week, project contractors have been given a deadline of seven days for completion of seven more elevated train stations.

Punjab Chief Minister's Adviser and the Lahore Orange Line Metro Train (OLMT) project Steering Committee Chairman Khawaja Ahmad Hassaan said overall 86% civil works of the projects have been completed, besides completion of half of the electrical and mechanical works.

Addressing project's weekly progress review meeting, he said, first four metro train stations between Dera Gujjran and Mahmood Butti would be completed during the current week, while contractors have been tasked to complete another seven elevated stations between Pakistan Mint and Lakshmi Chowk. Half of the rail track had already been laid in this section, he added.

He highlighted that an electrical sub-station to energies the nation's first metro train has also been completed. Though it was one of the difficult tasks to install u-tub girders of elevated track over Thokar Niaz Beg but it has also been successfully completed.

Participants of the meeting were informed that progress on metro train's package-1 from Dera Gujjran to Chaburji was 90%, on package-2 from Chaburji to Ali Town 80.14%, on package-3 the OLMT depot it is 86% and on package-4 stabling yard progress of development works has been completed over 48%. It was highlighted in the meeting that multi-storey underground GPO Station has been completed 45%, while underground passage has been completed 60%.

All train sets for Orange Line now in Pakistan

It was disclosed in the meeting that development works of the GPO Station have been divided in five sections of which 75% concrete work has been completed of four sections. So far over 7,900 cubic metres concrete has been poured and 1,800 tonnes of steel has been laid for construction of the GP station. The remaining 25% development works were being done on fast track after which Mall Road would be opened for traffic by March 31.

The meeting was attended by National Engineering Service Pakistan General Manager Salman Hafeez, Traffic Engineering and Transport Planning Agency (TEPA) Chief Engineer Mazhar Hussain Khan, senior officials of the PTCL, SNGPL, Pakistan Railways, City Traffic Police, Civil Defence, Rescue 1122, Chinese contractors CR-NORINCO and other concerned departments.

The 27-kilometre metro train project is estimated to cost over $1.65 billion (Rs165 billion), which is being funded through a loan by China's Exim Banks. Project documents highlights around $1 billion would be directly transferred to the Chinese contractors, CR-NORINCO, for procurement of the rolling stock while the remaining amount would be transferred to Pakistan for construction of track and provision of allied infrastructure.

The project is part of the city metro network and when completed, it would connect Raiwind, Multan Road, Mcleod Road, Lahore Junction Railway Station and the Grand Trunk Road.

Published in The Express Tribune, March 15th, 2018.