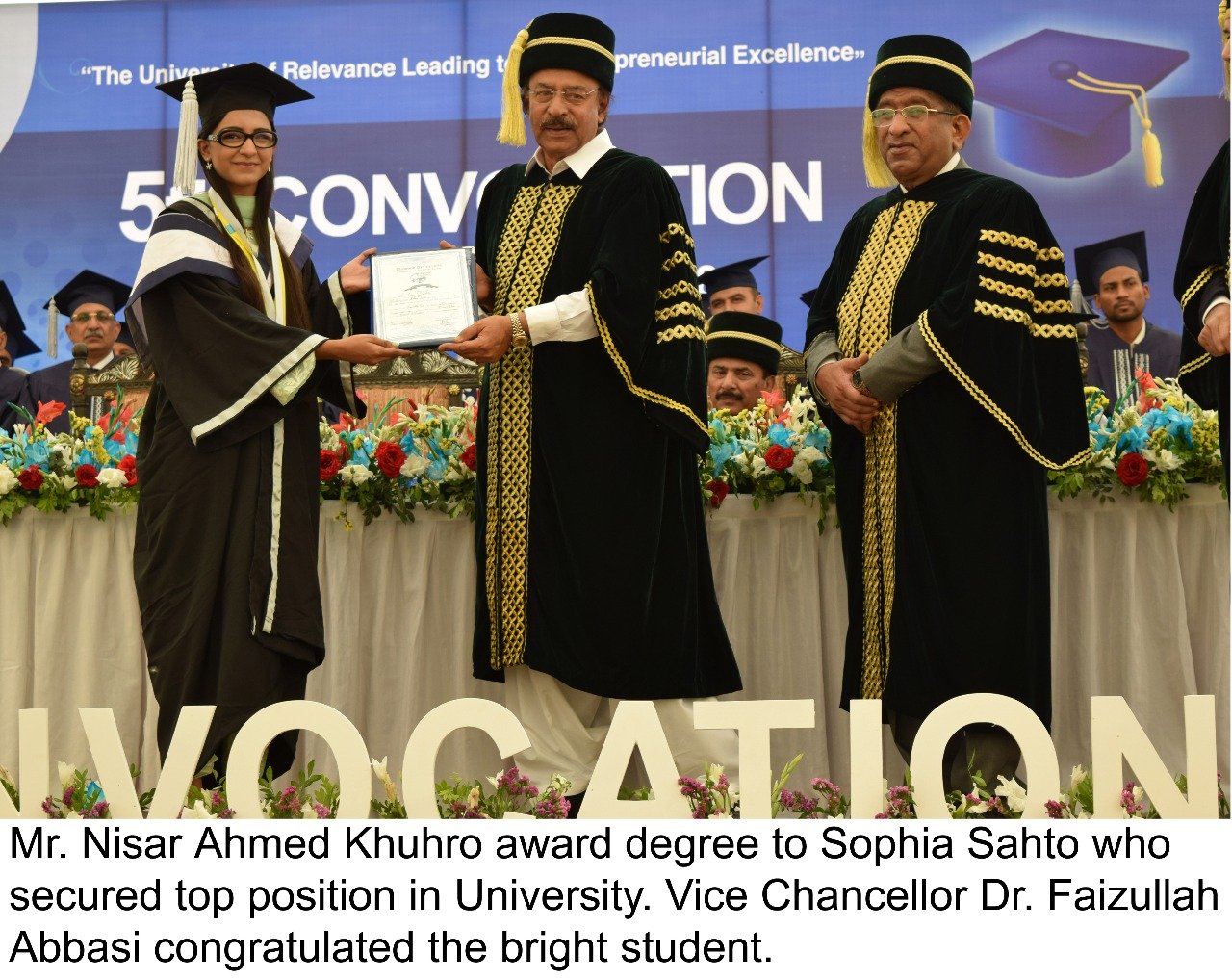 ---
KARACHI: The fifth convocation of Dawood University of Engineering and Technology (DUET) was held at the varsity's Jinnah ground on Saturday. Degrees were conferred upon 55 female and 210 male students, while six gold medals were awarded to the students for outstanding performance.

Nine silver medals were awarded to first position holders from nine departments - Majid Iqbal from the architecture department, Soofia Setho from the chemical engineering department, Sadia Asghar from the computer system engineering department, Samia Alam from electronic engineering, Mahwish Hashmi from energy environment engineering, Erum Zahid from industrial engineering, Farzana from metallurgy and material engineering, Talha Abbas Ahmed from petroleum gas engineering and Maryam Arshad from telecommunication engineering.

Parliamentary Minister Nisar Ahmed Khuhro attended the convocation as a special guest for the fourth time. He spoke about how the responsibility of offering high-quality of education falls upon us. "A good educational institution environment positively impacts students. Due to the efforts of several people, there are peaceful conditions at DUET," he told the graduates.

Caps and gowns: 453 students conferred degrees at Isra University convocation

He said that these days, many negative things are being said about varsities. Public sector universities were being severely criticised and people were saying that their degrees had little to no value.

He stated that the standard of education and standard of examination conduct are important for varsities to thrive. "Now, it is our responsibility to see how we can make the gift bestowed upon us by Dawood better," said Khuhro. He added that the Sindh government had allocated Rs5 billion for varsities in the province.

We are promoting education and have not been mere spectators, he told the graduates. "We take pride in higher education," he added. The minister questioned that when a city like Tokyo can have scores of varsities, why can 50 varsities not be established in Sindh? It is our responsibility to keep an eye on the performance of the varsities, he said, adding that economical and high-quality education at public universities make them popular among the people.

Speaking about the education city, Khuhro said we want Sindh to be more beautiful and will strive to get rid of the hurdles in the construction of education city. DUET Vice-Chancellor Faizullah Abbasi said that Khuhro has been the chief guest at the varsity's previous four convocations. The governor was supposed to attend the fifth convocation but could not due to his busy schedule. He said that Khuhro had played a significant role in upgrading the institution from a college to a varsity and that the Sindh government always gave it importance.

1,812 degrees awarded at NED convocation

Former chief minister Qaim Ali Shah used to grant Rs2 million to the varsity, which was the biggest grant ever given to any university in the province. Chief Minister Murad Ali Shah also granted Rs4 million last year. Abbasi said that an application requesting 200 acres of land in education city has been submitted to the CM.

The VC said that seven faculty members have been sent abroad to pursue PhDs this year for a surge in conducted. The laboratory could assist the government in formulating a food monitoring policy and also offer suggestions to improve food quality. He said that 10% of students at the varsity are females, while girls make up 80% of the position holders.

Scores of parents, students, faculty members, Pro-Vice-Chancellor Dr Pir Roshan Din Rashdi, Dean of the Faculty of Engineering Dr Abdul Waheed Bhutto, Academic Coordinator Dr Dost Ali Khan and Registrar Captain (retd) Waqar Hussain attended the graduation ceremony.

Student Maleeha Iqbal from the electronics department told Express News that the day is very important to the students. "It seems as if all our hard work has paid off and our dreams have turned into a reality. My teachers, parents, sisters and brothers have been behind my success and have always backed me up, every step of the way," she said.

1,027 students awarded degrees at SZABIST convocation

Samia Alam, the first position holder in the electronic engineering department, said that securing first position is an unbelievable achievement. She said that be it engineering or medicine, women have not lagged behind in any field. We have proven that we can bravely work in any field, which is why, despite being less in number, there have been many female achievers today at the convocation, she said. We need to apply our studies in our practical lives and earn a name in the engineering field through experiments, stated the position holder.
COMMENTS
Comments are moderated and generally will be posted if they are on-topic and not abusive.
For more information, please see our Comments FAQ