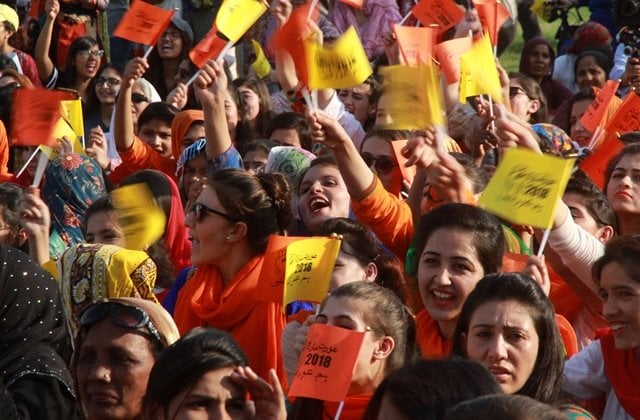 ---
KARACHI: In a world of glass ceilings, gender stereotypes and toxic masculinity, women are often sidelined or worse, stonewalled. In an ultraconservative society such as ours, the hurdles are tenfold and ceilings reinforced with iron sheets. But on Thursday, around 500 women made a stand.

We want freedom, chanted participants of the Aurat March, turning up their noses at the weighty stares of onlookers filled with equal parts shock and derision. If a woman can't take a stand on International Women's Day, then when can she?

"We're building off a momentum that has already arisen in different parts of the world," explained Sadia Khatri, one of the brains behind Girls at Dhabas and organisers of the Aurat March. "We're carrying on that energy but if you look at what has been happening in our country, the amount of harassment cases that have come up, there is a lot of anger that is finally releasing and this march was a way to direct that anger somewhere for something powerful and beautiful," she told The Express Tribune.




"We're living in a country where the space for dissent is shrinking every day and when we fight in our individual pockets, it gets really difficult and you get singled out and suffer pressure on a different level. The idea is that when we band together we are able to carry each other's fights without singling anyone out as a dissenter," she said. And this was indeed the message of the march – unity. We are stronger together than we are apart.

Women's Day : Women scientists urged to send research proposals to Europe

"We have all experienced these things," Rehana Channar told participants of the march. Standing on stage alongside a crowd of other women, she shared her story, as did a number of others who were finally given a space to voice their opinion.




She spoke of how she was almost kidnapped once but rescued herself by jumping from a moving car. "You have the strength to save yourself," Channar cried out, urging women to take back their spaces. "We are not the daughters of a nation or a country. We are our own daughters. We own these streets, whether it is at 11pm or 2am," she chanted to a round of hoots and hollers.




But she was not alone. One by one, women took the stage and told their tales. A teacher from Karachi University spoke about how she had been sexually harassed by a fellow teacher and how a brotherhood formed to protect her harasser. A lady health worker said Pakistan's women are no less than any other women, they just need a chance.  Activists spoke about how the forced conversion bill is still pending, despite being passed by the assembly.

Sindhiani Tehreek founder Mariam Palijo said years have come and gone yet women are still oppressed. "Today's women are still robbed of their rights," she said.

"Today, no woman is alone," said a member of Girls at Dhabas. They raised a call for a revolution and for the end of patriarchy.

Women's Action Forum urges top judge to apologise for 'sexist' comment

"Resolutions have been put forward by assemblies but on the other hand, violence against women has increased," said Assistant Professor at the University of Sindh Arfana Mallah. "This is why it is so important for women to unite across classes, ethnic divides or religious divides and raise their voice collectively to insert their presence in society and create their own space. This is why events like these, where there is a chance of uniting different classes of women, are so important," she explained.




"If you are really committed to the women's cause, if you really believe in equal rights, then you [women] have to come forward and reclaim your space. Nobody is going to donate or give you the space as charity," urged Mallah. "It's not enough that you're sitting at home, feeling bad and supporting us via social media. This is the time when you have to physically come out and show your presence," she stressed.

While many women may indeed have stayed home, a number did come out to show solidarity with their sisters in arms. From toddlers to the elderly, from women in niqabs to those sporting jeans, members of the transgender community and everyone in between, the message was clear – this is a new sisterhood, one in which all women are welcome.




The rally was unlike ones Pakistan has witnessed in the past. Women danced, they chanted, they sang and they made a statement – this is our space. During the march from Frere Hall to Flagstaff House and back, participants carried a charpoy with a figure wrapped in a white sheet in a symbolic funeral of the patriarchy. They chanted 'women are rising, lechers beware', along with 'chores are not just for women' to the amusement and bemusement of pedestrians and motorists alike.




According to author Rumana Husain, women across the world feel as if they are second class citizens. "There are pockets [in Pakistan] that keep pulling us back and for that it is very important that we hold such events," she said. "It is high time [the government] listen to what is being said," urged Husain, adding that often people in positions of authority shut their eyes and ears to what is being said, possibly because they do not want to relinquish control. Going back to the topic of sisterhood, she said women sometimes look towards other women who are empowered and can raise their voices on their behalf.

"The conversation on gender is not going to be won by just women or gender non-conforming people alone. It has to have men in the conversation because a lot of the abuse is coming from men and there's a real need for men to start taking ownership of their own bodies and their toxicity and start talking amongst themselves. And one way to do that is to listen to women and hear what they have to say," said Khatri.
COMMENTS
Comments are moderated and generally will be posted if they are on-topic and not abusive.
For more information, please see our Comments FAQ