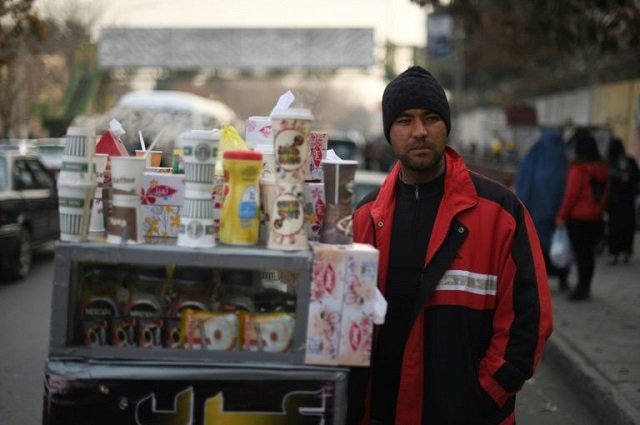 ---
KABUL: Afghans in need of a caffeine fix line up at Najibullah Sharyari's coffee cart in Kabul -- converts to the drink that is now percolating in a country obsessed with tea for centuries.

Esquires Coffee to open its first store in Karachi

Standing on a noisy street among vendors hawking their wares, the 30-year-old barista serves takeaway instant coffee from a mobile machine at his New York-style cart for as little as 28 cents a cup.




Coffee is the "best medicine" to cope with the daily grind in the overcrowded, polluted and war-torn city, insists Sharyari, pouring Nescafe into a fake Starbucks cup for a customer as honking cars crawl past his stand.

The uninitiated often ask for tea, he says, before explaining "We tell them they can have tea at home. There is a big difference between a cup of tea and a cup of coffee -- coffee is better."

Sharyari's coffee cart -- one of several he operates around the sprawling Afghan capital -- is an oddity in a city where most people drink tea and cafes are often protected by armed guards and hidden from view behind blast walls and steel doors.




Afghanistan was introduced to tea because of its location on the ancient Silk Road, and today remains one of the world's largest tea consumers per capita.

The drink is integral to the country's famed culture of hospitality, with guests offered a cup of green tea -- often infused with aromatic cardamom pods, and a piece of sugar on the side -- as they enter homes and offices.

It is ubiquitous at the table regardless of whether the meal being served is breakfast, lunch or dinner. But coffee has the power to pull people out of their daily routine, according to the aficionados at Sharyari's cart.

"Whenever I go to university I take this street just to drink a cup of coffee while I'm walking," university student Sayed Millad Hashimi tells AFP.




Sharyari launched his business four years ago in the relatively prosperous northern city of Mazar-i-Sharif, investing 50,000 Afghanis ($725) in a couple of coffee machines from neighbouring Uzbekistan.

Its success saw him expand to Kabul, where he says he has eight machines and serves more than 1,500 customers per day.

The sight of steam rising from the cart and the rich smell brew excitement apart from the impending jolt of caffeine, says a government worker named Mujiburrahman, rubbing his hands in anticipation.




"I am also happy to see our people getting creative and create job opportunities," the young and sharply dressed customer tells AFP.

Selling coffee on the streets of Kabul -- one of the deadliest places for civilians in the country, where blast walls and traffic choke the roads -- is a different prospect from Mazar, which Sharyari says is relatively peaceful and has a vibrant street life.

But in the capital there are grounds for buying your coffee at a street cart, which is accessible to residents in a way that fancier cafes hidden behind layers of security are not.




Rahim, a taxi driver, pulls up to the vendor and calls for coffee with milk without even leaving his car. "There is no parking lot in this crowded downtown, we cannot park our cars to go to a coffee shop or restaurant," the 45-year-old says.

"But (it) is easy here, just slam the brake, stop, pick a cup of coffee and go," he adds.

China's budding coffee culture propels Starbucks, attracts rivals

Security remains a concern. On January 27 one of the deadliest bomb blasts in the capital since 2001 killed more than 100 people just a few hundred metres from Sharyari's cart, he says.




"I was shocked but Kabul is such a resilient city," he muses. "The next day the people were in the streets again and it was business as usual."
COMMENTS
Comments are moderated and generally will be posted if they are on-topic and not abusive.
For more information, please see our Comments FAQ