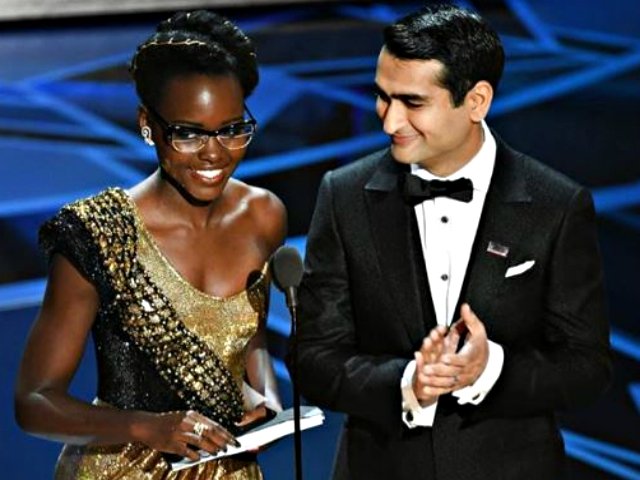 ---
LOS ANGELES: Extending support to the 'dreamers' in the US, Pakistan-origin comedian Kumail Nanjiani and actor Lupita Nyong'o from Kenya took a dig at their own immigrant status during the 90th Academy Awards in Los Angeles on Sunday evening.

https://www.instagram.com/p/Bf7Pg9Nje6t/?tagged=kumailnanjiani

Before presenting the award for the Best Production Design, Nyong'o stated that Nanjiani and herself were the two actors whose names people have trouble pronouncing.

https://www.instagram.com/p/Bf7LZG4FBLS/?tagged=kumailnanjiani

Nanjiani joked, "Kumail Nanjiani is my stage name. My actual given Pakistani name is Chris Pine. So you can imagine how annoyed I was when the other - the white one - showed up - The real Chris Pine."

https://www.instagram.com/p/Bf7dlfQlplL/?tagged=lupitanyongo

Nyong'o, whose latest release Black Panther is doing well at the box office, continued that she was an immigrant from Kenya. Nanjiani also snapped, "And I am from Pakistan and Iowa, two places that nobody from Hollywood can find on the map."

https://www.instagram.com/p/Bf7L1Y4HUev/?tagged=kumailnanjiani

Nyong'o, who won the Best Supporting Actress for 12 Years A Slave in 2014, shared, "Like everyone in this room and everyone watching at home, we are dreamers. We grew up dreaming of one day working in the movies. Dreams are the foundation of Hollywood and dreams are the foundation of America." Following this, The Big Sick actor then continued, "And so, to all the dreamers out there, we stand with you."

https://www.instagram.com/p/Bf7VQSznOSp/?tagged=kumailnanjiani

Their comments come amid an ongoing immigration debate in the US over a program that protects hundreds of thousands of young immigrants from deportation.

https://www.instagram.com/p/BU3IgRljD6j/?hl=en&taken-by=kumailn

Amongst all the debate, Nanjiani and his wife Emily Gordon missed out on winning an Oscar for their original screenplay for the film The Big Sick. The film also features Indian actor Anupam Kher.

https://www.instagram.com/p/Bf7Uf7gBAPP/?tagged=kumailnanjiani

It was the first nomination for the couple. However, the award went to Jordan Peele for Get Out, beating other nominees Lady Bird, The Shape of Water and Three Billboards outside Ebbing, Missouri.


The Big Sick is loosely based on the real-life romance between Nanjiani and Gordon. It follows an interracial couple who must deal with cultural differences after Emily becomes ill.

https://twitter.com/kumailn/status/970434470112149504

When the Oscar nominations were announced earlier this year, Nanjiani tweeted, "Wow. Emily and I met when she heckled me at a comedy show in the back of a diner in 2006. We wrote a movie about it and 12 years later we're nominated for an Oscar. I will never get over this."

Have something to add to the story? Share in the comments below.
COMMENTS (14)
Comments are moderated and generally will be posted if they are on-topic and not abusive.
For more information, please see our Comments FAQ