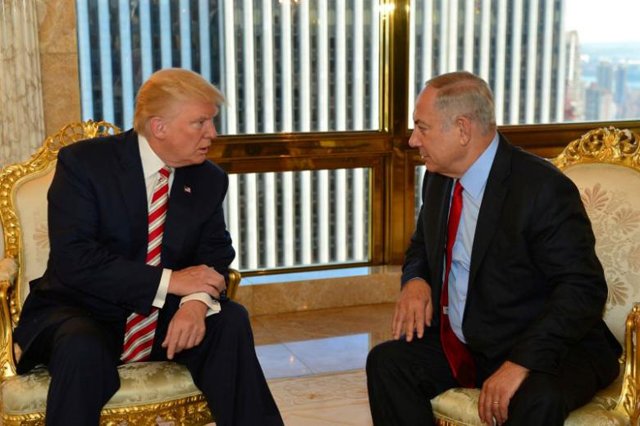 ---
WASHINGTON: Israeli Prime Minister Benjamin Netanyahu is to meet his "true friend" Donald Trump in Washington on Monday during a visit that will take him away from swirling accusations of personal corruption and a government crisis roiling the Israeli scene.

On Friday, police questioned Netanyahu for five hours over a bribery scandal that some commentators say could spell his political doom. In two separate cases, the police last month recommended that he be charged with bribery, fraud and breach of public trust.

At the same time, Netanyahu is grappling with a spreading governmental crisis that could lead to early elections.

But he will find a warm welcome at the White House from a president who has pursued a policy of unswerving support for Israel and its government.

Netanyahu congratulates Trump, a 'true friend' of Israel

The two leaders are not only friendly, they use some of the same populist arguments and appeals.

Netanyahu has embraced the Trumpian tactic of denouncing as "fake news" the  corruption allegations hanging over his head, while insisting he is the target of a politically motivated smear campaign.

"I think they are partners in ideology, and the ideology is a populist, conservative ideology which says that the old liberal elites are against us," said Gayil Talshir, a political scientist at Jerusalem's Hebrew University.

"I think from that perspective it is a boost" for Netanyahu.

Netanyahu will also take part, during his four-day visit, in the annual conference of the American Israel Public Affairs Committee (AIPAC), the influential pro-Israeli lobbying group.

The two leaders are certain to discuss Trump's recognition of Jerusalem as the Israeli capital — a move warmly embraced by Netanyahu though widely denounced in most capitals — as well as the struggle to curb Iran's regional influence.

Trump welcomes Israel's Netanyahu for Middle East talks

Breaking with his predecessors and defying  warnings, Trump on December 6 announced his intention to move the US embassy from Tel Aviv to Jerusalem. The White House plans to open the new facility on May 14, coinciding with the 70th anniversary of Israel's creation.

Netanyahu said late Saturday as he was preparing to leave for the US that he hoped Trump could attend the ceremony.

"I'm very grateful to him for this historic decision," he said.

In another move strongly supported by Netanyahu, Trump froze tens of millions of dollars in aid payments to the Palestinian Authority.

Those two actions drew an angry response from Palestinian leaders, who accused Trump of blatantly favoring Israel and said the United States had lost the ability to serve as an honest broker in any Israeli-Palestinian peace negotiations.

The peace process grew even more complicated recently after Jared Kushner, the president's son-in-law and one of his senior advisers, lost his top-secret security clearance.

That will greatly complicate Kushner's efforts to negotiate an "ultimate" peace agreement between Israel and the Palestinians, as Trump commissioned him to do.

That task has eluded far more experienced diplomats in previous administrations.

Analysts say it is hard to see how progress can be made when the Palestinians feel abandoned by the United States and Netanyahu faces pressure from hard-liners in his coalition to accelerate settlement construction in —  even the annexation of — the occupied West Bank.

Meantime, a deep divide over Israel and the Palestinians has emerged in the US. Poll results early this year from the Pew Research Center show 79 percent of Republicans sympathize more with Israel than with the Palestinians, while only 27 percent of Democrats say the same.

Netanyahu to test Trump policy at Washington talks

But Netanyahu is not thought to be overly concerned about any delay in restarting the peace talks.

In his encounters with Trump and at the AIPAC conference, he is expected to focus mainly on Iran as Israel's greatest enemy, and one he says seeks a permanent military presence in neighboring Syria.

The prime minister is also expected to call again for changes to, or the cancellation of, the nuclear accord between world powers and Iran, said Zalman Shoval, a former Israeli ambassador to Washington.

"Israel, I think, is hoping that there will be a more active American role in trying to block, trying to stem, the Iranian advances in Syria," where Tehran backs the Assad government, he said.

Beyond its political support, the United States provides Israel, its key regional ally, with more than $3 billion in annual military aid.
COMMENTS
Comments are moderated and generally will be posted if they are on-topic and not abusive.
For more information, please see our Comments FAQ