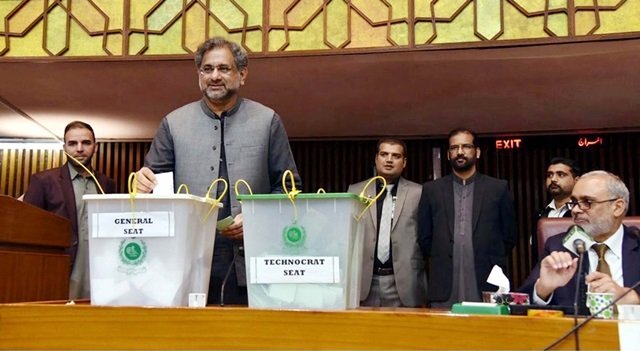 ---
QUETTA/ ISLAMABAD/ LAHORE/ KARACHI: The ruling Pakistan Muslim League-Nawaz (PML-N) gained control of parliament's upper house in a secret ballot on Saturday, after its backed 'independent candidates' won 15 of the 52 seats up for grabs in today's elections.

Working with allied parties in the Senate, PML-N should have de facto control of the 104-seat house.



"PMLN now the single largest party in Senate as well, Masha'Allah," tweeted deposed PM Nawaz Sharif's daughter, Maryam Nawaz.


PMLN now the single largest party in Senate as well, Masha'Allah. #SenateBhiSherKa #SenateElections2018

— Maryam Nawaz Sharif (@MaryamNSharif) March 3, 2018


The results of the Federally Administered Tribal Areas (Fata) were the first to come out. As many as 25 candidates contested for the four Senate seats from Fata.

Four candidates who won the Senate elections from Fata, according to unofficial sources, include Hidayatullah, Hilalur Rehman, Shamim Afridi and Mirza Mohammad Afridi.

According to initial results, out of 12 Punjab Senate seats, PML-N won 11 seats from the Punjab Assembly.

Former finance minister Ishaq Dar also won the Senate technocrat seat from Punjab Assembly. Other successful PML-N back candidates include Dr Asif Kirmani, Nuzhat Sadiq, Saadia Abbasi, Haroon Khan, Shaheen Khalid Butt.

PTI's Chaudhry Sarwar won the election from Punjab.

Following is a graphical representation of the current and previous position of the Senate, prior to and after the Supreme Court of Pakistan's ruling, which disqualified former premier Nawaz Sharif as the party's chief.





The Pakistan Peoples Party has so far won 10 seats out of the 12 seats from Sindh.

Successful candidates include Raza Rabbani, Maula Bux Chandio, Mohd Ali Shah Jamote, Mustafa Nawaz Khokhar. Dr Sikander Mandhro and Rukhsana Zuberi won the technocrat seats while Anwar Lal Dean won the seat for minorities. Quratulain Marri and Krishna Kolhi won the election for the reserved seat for women.

Pakistan Muslim League- Functional's candidate Muzzafar Hussain Shah won one seat from Sindh.

The Muttahida Qaumi Movement-Pakistan (MQM-P) suffered the most following rifts within its ranks as it could only manage to bag only one seat from the Sindh Assembly.

One senator from the JUI-F Molvi Faiz Mohammad made it to the list of Senators from Balochistan.

The other successful candidates from Balochistan include Muhammad Sadiq Sanjrani, Anwarul Haq, Ahmed Khan, Muhammad Akram, Anwarul Haq Kakar, Naseebullah Bazai, Sana Jamali, Muhammad Tahir Bizenjo, Sadar Shafiq Tareen, Khuda Babar, Muhammad Yousaf Khan Kakar and Abida Muhammad Azeem.

PTI's Faisal Javed won the general seat from K-P while Muhammad Azam Khan Swati from PTI and independent candidate Dilawar Khan won the technocrat seats from K-P.

PTI's Mehr Taj Roghani secured the women seat from Khyber-Pakhtunkhwa. While PPP's Rubina Khalid also won the reserved seat on women from K-P.

Maulana Samiul Haq failed to bag enough votes in the K-P Assembly.

Mushahid Hussain Sayed won from the ICT technocrat while Muhammad Asad Ali Khan Junejo won the general seat.
Mushahid Hussain Syed bagged 232 votes.




Polling for the 52 seats in Senate concluded in the national and provincial assemblies at 4pm on Saturday.

Elections to the Senate were held in accordance with Article 59 of the Constitution. Each provincial assembly elects 23 members respectively. These include 14 general, four technocrat, four women and two non-Muslim seats. Four – two general, one technocrat and one woman are elected from Islamabad Capital Territory (ICT). Eight members are elected from the Federally Administered Tribal Areas (FATA).

House of federation: What does the Senate do?

Elections for 52 Senate seats were held. Separately, two seats have been lying vacant. Mushahid Hussain, elected on a Pakistan Muslim League-Quaid (PML-Q) ticket in 2012, recently tendered his resignation after switching allegiance to the Pakistan Muslim League-Nawaz (PML-N). Hussain, whose term was set to expire next month, is in the race for a new Senate seat. Saifullah Bangash, a Pakistan Peoples Party senator, died recently. His term was also expiring next month.

The following list shows senators elected by party and seat type



The following list shows senators elected by party and region





Punjab Assembly

358 votes have been casted in the Punjab Assembly while a few voters were still inside the balloting hall when the polling ended at 4.

Pakistan Muslim League-Nawaz (PML-N) MPA Malik Muhammad Iqbal Channar was the first one to cast his vote for the 12 Senate seats for Punjab.

Punjab Law Minister Rana Sanaullah was the second to cast his vote.

The situation in the Punjab Assembly grew tense after PTI members accused the government of rigging the polling, Express News reported.

Members complained to the presiding officer (PO) of governmental officers allegedly inserting empty papers into the ballot box as opposed to votes. They further claimed that voters following them were doing the same.

PTI workers urged the PO to halt the voting and search the ballot box but the request was dismissed.

PTI MPA Shoaib Siddiqui, while addressing the media, said that under the leadership of provincial law minister Rana Sanaullah, government officials were rigging the polls. "We reached out to the PO, but it [our request] fell on deaf ears."

Punjab Chief Minister Shehbaz Sharif also cast his vote in the assembly.

Sindh Assembly




So far, 161 votes have have been cast in the Sindh Assembly to elect 12 senators from Sindh.

Strict security measures were put in place within and outside the assembly premises with heavy contingents of Rangers and police deployed.

Usage of cell phones was also banned in the house and around 800 ballot papers have been published for all categories.

The provincial election commissioner, Mohammad Yousaf Khattak is presiding officer and seven senior most officers of the election commission are working as polling officers.

Not only lawmakers, but leaders of different political parties including PPP, MQM-P PTI, PSP have reached the assembly to witness the election process.

Pakistan Peoples Party (PPP) MPA Rubina Qaimkhani cast the first vote followed by former chief minister Syed Qaim Khan Shah.

Sharjeel Memon had also reached the Sindh Assembly to cast his vote. Earlier, speaker Sindh Assembly had written a letter to jail authorities to produce Memon so that he could cast the vote.

Separately, Speaker Sindh Assembly Agha Durrani dispelled rumours of PPP being involved in horse trading.

"There was dinner at CM House where all MPAs were invited. No one should raise any objection if MQM MPAs also attended it," he said after news of MQM legislators meeting with PPP leaders emerged on Friday.

In stark contrast, former Sindh chief minister Syed Qaim Ali Shah said PPP has not bought votes, but two MQM female MPAs—Heer Ismail and Naila Muneer—voluntarily assured to support PPP candidates in the Senate election.

Accredited journalists covering the Senate election protested in Sindh Assembly premises after they were not allowed to report live from the press gallery. Reporters staged a sit-in in the assembly parking area.



K-P Assembly




Balloting ended in the K-P Assembly as all122 registered voters casted their votes.

Jamaat-e-Islami (JI) lawmaker Muhammad Ali was the last person to cast his vote.

The K-P Chief Minister Pervez Khattak expressed satisfaction over the arrangements made by the ECP for the election.

"I will definitely obey the set rules of the ECP and will take off my jacket and shoes if they ask for it," Khattak said.

He also accused PPP of horse trading saying that the party has few votes but fielded three candidates.

"We have 67 votes and we are contesting for four general seats and one each for the seat of technocrats and women. While PPP has five votes and three candidates."

Former minister for mines and minerals development Ziaullah Afridi was the first to cast his vote when the polling kicked off at 9am.

Everything in possession of the voters including cell phones, watches, rings and bags were taken from them before they were handed the ballot papers.

A group of polling agents, from both the opposition and treasury benches, checked ECP stamps on the back of every ballot paper before voting.

Lawmakers were irked by the ECP staff asking them to take off their jackets and coats for frisking which lead to a few scuffles.

Even K-P Speaker Asad Qaiser was searched and was asked to take off his coat before proceeding towards the polling booth.

PPP's Nighat Orakzai and PML-N lawmaker Sobia Shahid exchanged harsh words when the latter tried to frisk the former.

PTI lawmaker Fazle Ilahi also got into a verbal spat with the ECP staff and polling agents.

The Peshawar High Court had on Friday had observed that Senate elections could not take place in the provincial assembly unless Baldev Kumar took oath as member of the house.

However, despite the court's orders, Baldev Kumar was neither present in the house for voting nor was he added to the list of voters.

National Assembly




Polling for the Federally Administered Tribal Areas and Islamabad Capital Territory (ICT) Senate seats are also underway in the National Assembly.

NA Speaker Sardar Ayaz Sadiq was the first to cast his vote.

Prime Minister Shahid Khaqan Abbasi also cast his vote for the two ICT seats.

Balochistan Assembly




All 64 votes for the 11 Senate seats were cast in the Balochistan Assembly as the voting came to an end.

The assembly had to earlier cast 65 votes but after the ECP's decision to de-seat Mazoor Khan Kakar the assembly will not cast 64 votes.

'Historic day'

Earlier speaking to the media, Minister of State for Information and Broadcasting Marriyum Aurangzeb said today marks a historic day for Pakistan as the Senate elections are being held on time.

Marriyum further said that she's appalled by the court's decision to not let Nawaz Sharif head the party.

Marriyum reiterated that Nawaz will win every election he contests and the nation will support him through and through.




Commenting on Imran Khan, Marriyum said that PTI workers will not vote for their own party and Imran is yet to respond to fake NOC that he produced over the construction of his residence in Bani Gala.

She further added saying that the PTI chief must stop accusing the ruling party of horse trading.



In the light of the related electoral provisions, the Senate polls are held every three years when half of the senators complete their six-year term, out of 104-member house. The Senate comprises 66 general seats, 17 seats reserved for women, 17 seats reserved for technocrats and four seats for non-Muslims.



Meanwhile, Pakistan Peoples Party (PPP) Chairperson Bilawal Bhutto Zardari in a tweet congratulated the democrats and shared that the ongoing Senate elections are a step forward for Pakistan's 'young democracy'.

He further said that the PPP has put forward its best candidates and wished them best of luck for the results.


Congratulations to all democrats. Another step forward for Pakistan's young democracy, Senate elections taking place despite conspiracy theories. #PPP has put forward the best candidates. Wishing them best of luck.

— BilawalBhuttoZardari (@BBhuttoZardari) March 3, 2018


Imran Khan fails to cast his vote

The PTI chief Imran Khan did not appear in the National Assembly to cast his vote.

Taking a jibe at the PTI chief, Jamiat Ulema-e-Islam chief Maulana Fazlur Rehman stated that when has Imran Khan ever shown up to parliament.

Upper house: How are Senate elections conducted?

Of these 104 seats, each province has 23 seats including 14 general seats, four women seats, four technocrat seats and a non-Muslim seat.  Fata has eight general seats in the Senate while Islamabad has four seats including two general seats, a women seat and a technocrat seat.

Out of 46 seats from the provinces on which polls are taking place, 24 belong to Punjab and Sindh (12 seats in each province including seven general seats, two women, two technocrat and a non-Muslim seat) while 22 belong to Khyber-Pakhtunkhwa and Balochistan (11 seats in each province including seven general seats, two women seats and two technocratseat).
COMMENTS (2)
Comments are moderated and generally will be posted if they are on-topic and not abusive.
For more information, please see our Comments FAQ