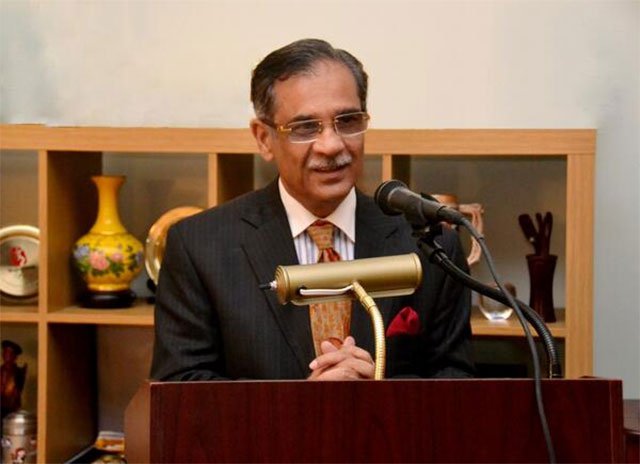 ---
ISLAMABAD: The Supreme Court on Thursday took a suo motu notice of the issuance of one million gas connections on the directives of the Pakistan Muslim League-Nawaz (PML-N) parliamentarians ahead of the general elections.

Chief Justice Mian Saqib Nisar, while hearing the Bani Gala encroachment case, summoned the managing directors of Sui northern and southern gas companies to the court next week.

CJP Nisar also sought a report on the policy of the issuance of new connections and asked how many had already been issued last month.

The bench asked both officers to furnish information along with affidavits.



Parliament cannot make law conflicting with Constitution: CJP

On the occasion, Justice Ijazul Ahsan questioned whether it was appropriate to issue such connections before the general elections.

The chief justice asked Minister of State for Capital Administration and Development Division Tariq Fazal Chaudhry as to how many directives he had passed for the issuance of gas connections.

The minister replied that he had not issued any directives and that the gas connections were being given on Prime Minister Shahid Khaqan Abbasi's directives.

"We will examine the PM's directives," said the chief justice, adding that "we have to secure natural resources".

Chaudhry contended that the PM, when he was the federal petroleum minister, had devised a policy wherein connections were being given on merit.

Our restraint should not be considered weakness: CJP

He stated that now there was no gas shortage after the supply of liquefied natural gas in the country.

Earlier on Thursday, the Supreme Court dismissed an application filed by the Sharif family, seeking revaluation of wealth tax on their shares in various companies.

The PML-N's move seems to be aimed at wooing voters at a time when the ruling party is facing difficult times in the form of Nawaz Sharif's disqualification, both as the premier and the party's chief since July 2017 last year.

On February 26, it was reported in an English-language daily that the N-League government had ordered a record one million additional gas connections for domestic consumers on the recommendations of parliamentarians, mostly in the Punjab, as it entered its final 90 days in office.

The cost of pipelines spread over 20,000 kilometres was estimated at Rs14 billion and the Oil and Gas Regulatory Authority (Ogra) was under extreme pressure to "approve in principle" about 700,000 new connections within days, a senior Ogra official said, confirming the news report.

All this was being done in the name of 'sustainable development', even though the schemes were neither sustainable at this stage because of gas shortage nor affordable for the Sui Northern Gas Pipelines (SNGPL) and its consumers, said a government official.

He said that similar populist schemes were launched by the PPP government in 2012-13 and most of them could not be completed because the Supreme Court had blocked their implementation.

The newspaper quoted an official, who said, the SNGPL had already issued Rs50 billion worth of work orders this year for procurement of pipelines and related parts and equipment for the domestic gas schemes called distribution main and distribution lines.

These include carryover unfinished schemes of previous years. The official said the total cost of the approved gas schemes was currently estimated at about Rs1 trillion, but these were unlikely to be completed in a decade.

It was also reported that the Ogra had already approved 300,000 fresh gas connections at an estimated cost of Rs4.2 billion as part of estimated revenue requirement for 2017-18. The regulator had already received another petition for Rs9.5 billion to launch 700,000 more connections.

Likewise, the Ogra's top brass were also called to the Parliament House last week to push for quick approval.

The official said that the financing of the schemes would be made part of the revenue requirement and then passed on to consumers on the basis of actual spending.

Besides, the government had already diverted about Rs7.2 billion through technical supplementary grants (TSG) out of the federal budget for 27 selective gas schemes between July last year and January this year for the National Assembly constituencies of Murree, Kohutta (Prime Minister Khaqan Abbasi's areas), Kohat, Mardan, Narowal, Naushero Feroze, Mansehra and Nankana Sahib, Peshawar, Swat, Shangla, Sheikhupura, Lahore, Sialkot, Chakwal, Sahiwal, Chinyot and Abbottabad/Mansehra.

Legal experts said that the diversion of fund was in violation of the SC's judgment in the PM's discretionary fund case.



PM slams judiciary for labeling MPs as 'thieves and looters'

Officials said it was strange that the Ogra and the SNGPL were obliging politically-motivated schemes with huge financial implications, despite knowing well that the gas company lacked the capacity to deliver one million domestic connections with 20,000km pipelines in one year. They said the company could deliver more than 300,000 connections with 5,000-6,000km pipelines in a year.

The officials said that half of the funds spent during the elections normally went down the drain or were siphoned off, adding that 20,000km pipelines could not be laid in three months before the elections.

There was no domestic natural gas available in Punjab to feed new towns and consumers as gas supplies were already dwindling. The gas-producing provinces, particularly Khyber-Pakhtunkhwa, were no longer allowing fresh gas finds to the national grid that could be delivered to Punjab unless full utilisation was made in their own areas.

This meant that imported LNG would be diverted to the gas distribution system for supply to domestic consumers for short-term political gains. This would be unaffordable for consumers and play havoc with sustainability of not only the SNGPL, but also the entire energy sector in view of about Rs1,100 per unit cost of LNG, compared to Rs100 to poor domestic consumers.

Interestingly, Ogra in its recent annual report said that with an average addition of 300,000 gas consumers every year, the country's gas shortage would touch four billion cubic feet per day (bcfd) — almost equal to current total supplies — in two years and would go beyond 6.6bcfd by 2030.

"The shortfall in gas is expected to reach 3.999bcfd by the fiscal year 2019-20 and the gap will reach 6.611bcfd without imported gas by 2029-30," Ogra said in its report released on February 10.

The regulator attributed the rise in demand and consumption of gas by residential and domestic consumers to price differential vis-a-vis other competing fuels — liquefied petroleum gas, firewood and coal.
COMMENTS (5)
Comments are moderated and generally will be posted if they are on-topic and not abusive.
For more information, please see our Comments FAQ