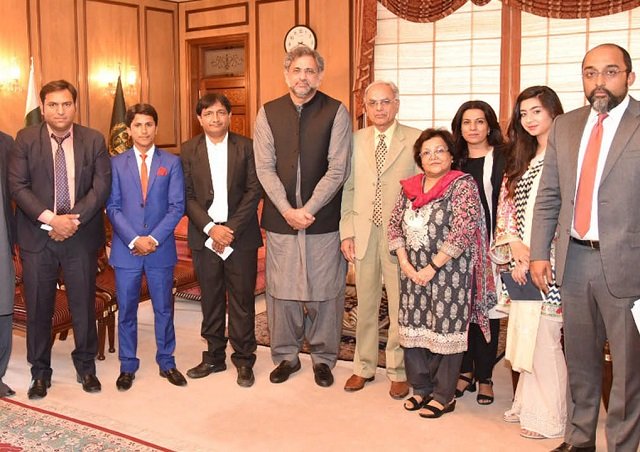 ---
Prime Minister Shahid Khaqan Abbasi said on Thursday that maths and science were integral to the country's future, but the current education system was not adequately delivering the skills to the students.

He said this while speaking to a team from the Pakistan Alliance for Maths and Science (PAMS), including practitioners, scientists, and advocates from all over the country at the PM Secretariat in Islamabad.

The meeting was requested by PAMS to urge the government to help improve the state of learning in maths and science, in keeping with its responsibility of ensuring that every child received quality education as per the Article 25-A of the Constitution.

Pakistan Alliance for Maths and Science (PAMS) is a collective of for-profit and not-for-profit organisations invested in maths and science learning for the sake the country's future.

Pakistani student scores gold at international math competition

The diverse group presented a set of recommendations to the prime minister, which included appointing a "Chief Scientist" within the Prime Minister's office, raising of the issue of maths and science learning at the Council for Common Interests (CCI), appointing "Science & Technology Ambassadors" to represent Pakistan in areas such as artificial intelligence and robotics, climate change, biotechnology and genetics, strengthening the Pakistan Science Foundation, and establishing maths and science centres at all public libraries within the domain of the federal government.

Prime Minister Abbasi assured the PAMS members that the recommendations of the alliance would be considered despite the short duration of the existing government's remaining tenure.

The PAMS delegation included Dr Nelofer Halai of the Institute of Education of Aga Khan University, President ECO Science Foundation Dr Manzoor Soomro, Dr Faisal Khan from CECOS University, President Pakistan Science Club Abdul Rauf, CEO Science Fuse Lalah Rukh, CEO Pakistan Innovation Foundation Nida Athar, Saima Zaidi of Habib University, CEO Thar Education Alliance Pratab Shivani, CEO Sindh Education Alliance Junaid Jahar, and Nimra Tariq, Salman Naveed Khan and Mosharraf Zaidi from Alif Ailaan.