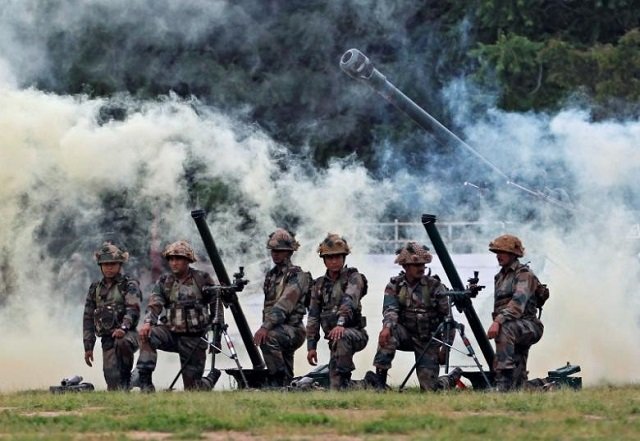 ---
The Indian armed forces have moved ahead to more overt strikes then the previous ideology of muted attacks on Pakistan, an alarming situation for the country already facing hostilities on the western borders.

Speakers, during a discussion at Islamabad Policy Research Institute (IPRI) said the Joint Doctrine of Indian Armed Forces 2017 explicitly acknowledges the use of "surgical strikes" as a formal part of India's toolkit, validates the existence of India's Cold Start Doctrine and clearly highlights a shift in nuclear strategy by indicating movement away from "Credible Minimum Deterrence" (CMD) to "Credible Deterrence" (CD).

Islamabad warns New Delhi against misadventure

Deliberating on "Indian Armed Forces Joint Doctrine 2017: A Critical Appraisal" they said that no longer are the lines "gray" in terms of what India's hegemonic and dangerous designs for the region since the document is indicative that New Delhi sees both China and Pakistan as direct military threats. The doctrine also offers a new picture of how India separates the control of its nuclear weapons between military and civilian authorities, said the speakers at the Panel Discussion on organised by IPRI.

IPRI President Abdul Basit said the presentation of India's nuclear strategy in the doctrine is alarming since it has opted to use the terms "Credible Deterrence" instead of "Credible Minimum Deterrence". He pointed out that as a reflection of India's future political and military ambitions, the doctrine will have long-term implications for Pakistan's threat perceptions and force posturing, and calls for serious contemplation by the government.

Islamabad warns New Delhi against escalating tensions

Discussing the "Potential Shifts in Indian Nuclear Strategy: Challenges for Nuclear Deterrence in South Asia", senior defence analyst Air Commodore (retd) Khalid Banuri highlighted that the JDIAF focus on determining and preventing conflict through a process of Credible Deterrence, coercive diplomacy and punitive destruction, disruption and constraint was alarming.

Published in The Express Tribune, March 1st, 2018.
COMMENTS (2)
Comments are moderated and generally will be posted if they are on-topic and not abusive.
For more information, please see our Comments FAQ