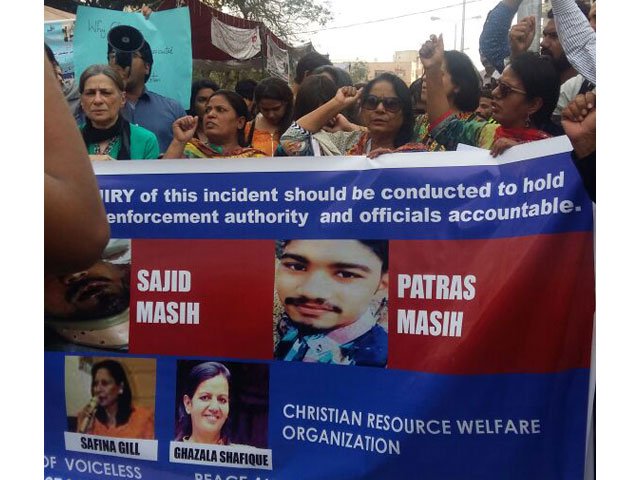 ---
KARACHI: Demonstrators gathered on Monday outside Karachi Press Club (KPC) to raise voice against the alleged maltreatment meted out in Lahore to two persons accused of blasphemy.

Holding placards and chanting slogans, those in attendance held the FIA and police accountable for allegedly asking Sajid Masih to sexually assault Patras Masih.

According to Sajid, the circumstances led to Sajid jumping from the fourth floor of the investigation agency's Lahore building.

The FIA earlier rejected the allegations of the victim, saying that the victim was not tortured at all. According to the agency, the investigators were asking the man for the password of his mobile phone but he attempted to commit suicide by jumping off the building.

The agency's official further said that Sajid was the member of a group where blasphemous content was shared.

"The purpose of the protest is to create awareness about the torture and abuse in order to hold the government, FIA and police accountable," said social activist Jibran Nasir.

Blasphemy suspect accuses FIA officials of forcing him to sexually assault cousin

"We must show solidarity and public support to all victims of blasphemy allegations, especially non-Muslim Pakistanis who are more vulnerable to threats from hardliners."

Arnold Edwin, 25, one of the protesters outside KPC claimed that 95 per cent of Christians in Pakistan would no longer be here if they had an opportunity to escape.

"In 1947, 23 per cent of Pakistan's population was minorities. 61 years later, the same demography stands at a mere three percent." Christians usually fly abroad the moment they have a chance, he added.

Those who were unable to attend the protest voiced their support and threw their weight behind the cause. "I am in a foreign land, but my support and prayers are with the victims. Nothing is superior to humanity," said Sumaira in a Facebook post on the event's discussion page.

Protests were also reportedly organised in other parts of the country, including Lahore. The demonstrators raised slogans against the brutal act and demanded vacancy for an officer from minorities in the FIA cyber crime wing so that people accused of blasphemy could be given an effective and impartial inquiry.
COMMENTS
Comments are moderated and generally will be posted if they are on-topic and not abusive.
For more information, please see our Comments FAQ