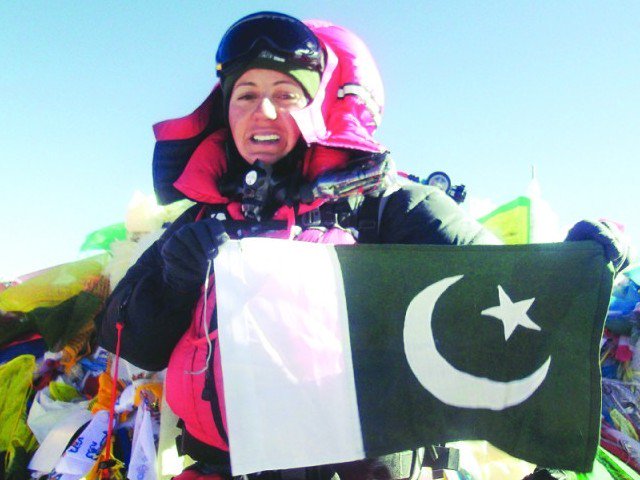 ---
ISLAMABAD: Samina Baig, the first Pakistani woman to have climbed Mount Everest, was appointed on Monday as the national goodwill ambassador by the United Nations Development Programme (UNDP).

Baig will lead efforts to build national awareness and partnerships around Sustainable Development Goals, particularly those related to climate change, environmental protection and women empowerment.

"I am greatly honoured to be part of UNDP," the mountaineer said while addressing the signing ceremony.

"From the remotest village of Pakistan and reaching the summit of the world's tallest mountain, Mount Everest and beyond the borders, scaling peak in Antarctica and the seven highest peaks of the seven continents in some of the most harsh conditions, my purpose of climbing was to empower women through these adventures and encourage gender equality."

With my brother, she continued, I have experienced significant impact of global warming and climate change on our mother earth.

"I am honoured to be the national goodwill ambassador of UNDP to spread the voice to take serious steps to counter global warming and raise voice to empower young girls so that they climb the highest peaks within their fields of profession."

The United Nations Resident Coordinator in Pakistan, Neil Buhne said, "Preparing for effects of climate change and instituting environmental protection will safeguard economic development for future generations."

Maverick climber calls off 'suicidal' solo bid to summit K2

Moreover, Buhne maintained, half of Pakistan's population, its women, are under represented in education, the workforce and in decision making.

"Empowering women to play their full role in society is not only an ethical imperative, it is essential for sustainable development."

According to UNDP Pakistan Country Director Ignacio Artaza, "As the national goodwill ambassador for Pakistan, Ms Baig will use her profile to shine a light on the issues that shape Pakistan's future, and build the partnerships required to address them."

Ambassador of Austria, Dr Brigitta Blaha was also among those in attendance on the occasion.

Born in Gilgit-Baltistan, Samina Baig, at the age of 22, became the first Pakistani woman to climb Mount Everest. By the time she turned 23, she had climbed the highest mountain on each of the world's seven continents.

Awarded the Pride of Performance by the government of Pakistan, today she presides over the Pakistan Youth Outreach Foundation to encourage youth, especially women, to participate in challenging activities.
COMMENTS (1)
Comments are moderated and generally will be posted if they are on-topic and not abusive.
For more information, please see our Comments FAQ