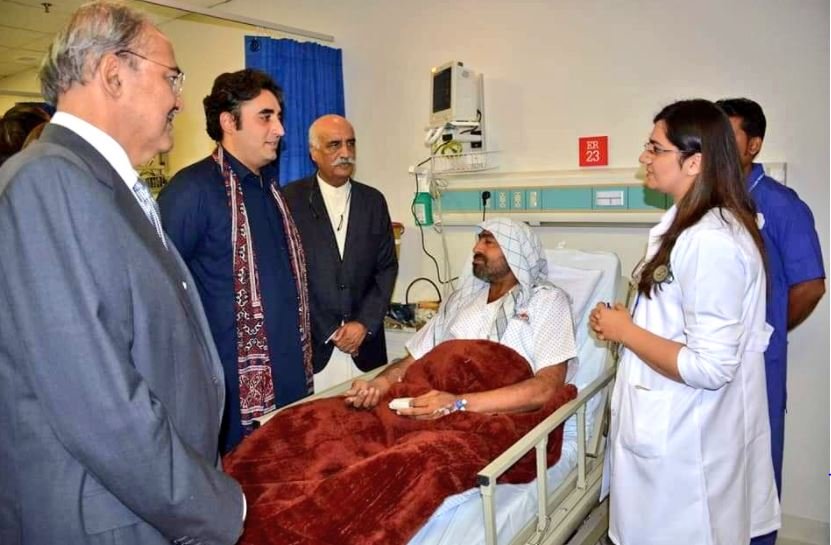 ---
The National Institute of Cardiovascular Diseases (NICVD), Karachi and Sindh government have established a state-of-the-art 300 bed cardiac facility in Sukkur where services will be provided free-of-charge.

The institute's fifth satellite centre was inaugurated by Pakistan Peoples Party Chairperson Bilawal Bhutto Zardari. Also present at the ceremony were Chief Minister Murad Ali Shah, Leader of the Opposition in the National Assembly Syed Khursheed Ahmed Shah, Health Minister Dr Sikandar Ali Mandhro, former provincial chief minister Qaim Ali Shah, Transport Minister Nasir Hussain Shah, Home Minister Sohail Anwar Siyal, members of the district administration and hospital management.

NICVD Executive Director Professor Nadeem Qamar said that he is very pleased by the fifth satellite centre's inauguration. It is a matter of great pride that NICVD Sukkur is a complete cardiac hospital of international standard and is providing major cardiac facilities, especially interventional cardiology, to the people of Sindh at their doorstep for free, he said.

Follow your heart to NICVD's Chest Pain Units

He said that the NICVD centres in Larkana, Tando Muhammad Khan, Hyderabad and Sehwan have been doing wonders and saving lives. As many as 988 cases of patients suffering heart attacks at NICVD Larkana, 599 in Tando Muhammad Khan, 424 in Hyderabad and 123 in Sehwan have successfully been treated since the inception of these centres in April 2017, October 2017, November 2017 and December 2017 respectively.

Prof Qamar said the NICVD has brought both comprehensive diagnostic and treatment modalities to the population of rural Sindh without compromising on quality. With the same state-of-the-art cardiac facilities, NICVD has stepped into this region of Sindh and started cardiac emergency response, primary percutaneous coronary intervention (angioplasties during heart attacks), adult and paediatric cardiology, consulting clinics, echocardiographies and critical care for the population of this district and its peripheries.

He said that it is another major achievement of the NICVD in the continuing journey towards excellence in cardiovascular healthcare. The NICVD head said they arrived at this point with the support of the Sindh government. NICVD's team of cardiologists, technical staff, nurses and management have helped set the course of efforts to bring the most advanced and specialised heart care to the region and country, he praised.

Sindh excels in public health domain, says Bilawal

Prof Qamar went on to say that it is a matter of pride that the institute is opening three additional centres in Nawabshah, Khairpur and Mithi, which will become operational this year.

"Today, I once again congratulate the National Institute of Cardiovascular Diseases for stepping into Sukkur to facilitate cardiac patients at their doorsteps. After NICVD's satellite centres in Larkana, Tando Muhammad Khan, Hyderabad and Sehwan, this centre is another huge achievement," said Murad. He pledged to continue supporting the NICVD for the cardiac care advancement and similar projects.

Khursheed, who is an elected MNA from Sukkur, said the cardiac facility would play an important role in improving the health of both adult and child patients and would significantly reduce the waiting list of patients for intervention as well. "I wish them success and reiterate my support," he pledged.

While congratulating the facility on achieving this milestone, Bilawal said the government was proud to launch the 300-bed hospital in Sukkur, which was the largest cardiac centre in Sindh after the NICVD in Karachi.

Residents will not be free to openly defecate in Sindh by 2025

He said it is heartening that the NICVD and government are striving to serve the people of Sindh together. "NICVD has achieved another praiseworthy milestone in collaboration with the provincial government towards providing state-of-the-art, totally free cardiac healthcare facilities to the people of Sindh," said Bilawal. Cardiac surgeries will soon be started at the facility as well, he announced.
COMMENTS
Comments are moderated and generally will be posted if they are on-topic and not abusive.
For more information, please see our Comments FAQ