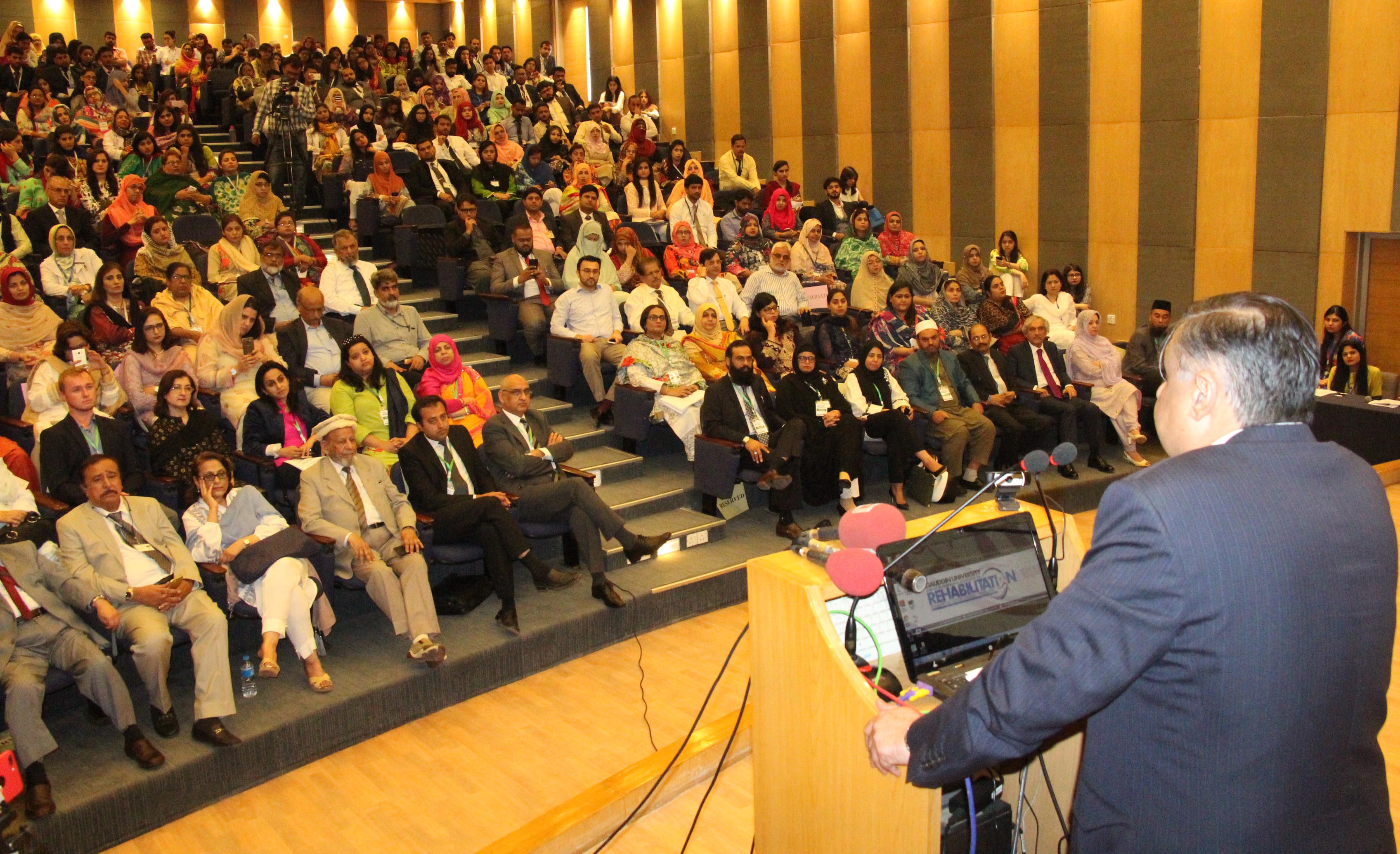 ---
Thinking increases neurons and open-mindedness always makes a difference, said former federal petroleum minister and Ziauddin University Chancellor Dr Asim Hussain. He was addressing an international conference at the varsity on 'Rehabilitation: Translational, Clinical and Research Perspectives'.

Dr Asim said in today's era, modern medicine, philosophy, engineering, upgraded technology are moving parallel together. Research is a key element in the process of data collection, its analysis, hypothesis and final conclusions.

"At Ziauddin University, we have always been inclined towards advocating and encouraging research at every stage and now, we are on the way to the expansion of our maneuvers from a medical university to that of a general university rendering services in all the subjects of greater interest," he added.

Keynote speaker Dr Sabahat Wasti, vice-president of the World Federation for Neuro-Rehabilitation, Gulf Region, said that rehabilitation is no longer a backend service. It is underscored as a forefront specialty, certainly an adjunct in clinical research, which is intended to enable patients with disabilities maintain optimal physical, sensory and psychological functions, he said.

AIOU to hold conference on Pakistani languages

He went on to say that today, the United States has over 11,000 board-certified physiatrists who work for patients' rehabilitation. He highlighted that progress is being achieved in the discipline of rehabilitation. Dr Wasti suggested that early rehabilitation can prevent a lot that is associated with disease as secondary loss and largely results in increasing the patient and family's satisfaction. He insisted that medical rehabilitation should form the core element of all treatment protocols. It is essential for patients receiving advanced neurological, cardiac, pulmonary, cancer and trauma care, he explained. It is now the need of the hour for a country like Pakistan to begin investing in the field of rehabilitation without further delay, Dr Wasti advised.

The Ziauddin Memorial Lecture was given by Muhammad Adeel Parvaz, associate professor of the department of psychiatry and neuroscience at Fredman Brain Institute, New York, on 'Recovery and Rehabilitation in Addiction'. Parvaz said the consequences of drug abuse are widespread and effect people irrespective of their ages. Besides addiction, drug abuse is interrelated to multiple health problems, including HIV/AIDS, cancer, heart disease, and many more, he explained.

Ziauddin University Vice-Chancellor Professor Dr Pirzada Qasim Raza Siddiqui said the objective of events such as these is to inculcate and create awareness about the importance of rehabilitation and its modern implications. Ziauddin University is aiming to achieve excellence in the field of research on neurosciences and rehabilitation, he said.

The conference was attended by renowned speakers from the USA, Dubai, Malaysia and Spain.
COMMENTS
Comments are moderated and generally will be posted if they are on-topic and not abusive.
For more information, please see our Comments FAQ