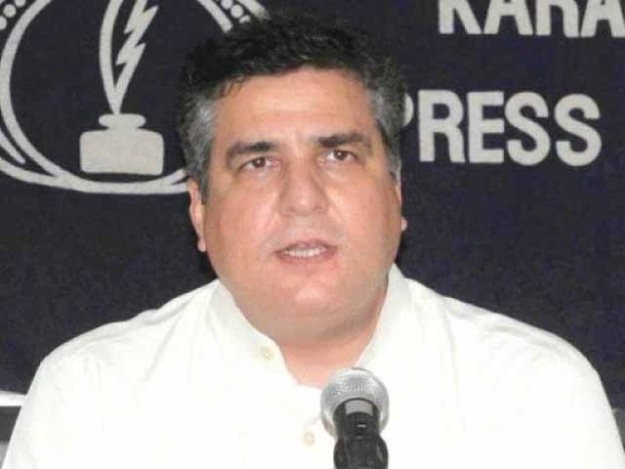 ---
ISLAMABAD: Federal Minister for Privatization Daniyal Aziz on Thursday requested the Supreme Court (SC) to provide 'substance of charges' against him so that he would be able to file a reply in the contempt case against him.

Aziz will submit his application to the three judge bench, headed by Justice Azmat Saeed Sheikh, as it would resume the contempt case against Daniyal Aziz today (Friday). The minister in his application has sought the original record of his statements as well as substance of charges. The application has been submitted through his counsel advocate Ali Raza.

The application states that Aziz was issued a show cause notice on February 19, wherein three specific news items were recorded.  One was news item published in an Urdu daily on September 9, 2017. Likewise, video clips were aired on two private TV channels on December 15 and 21, last year.

Sindh High Court seeks Shoaib Shaikh's medical certificate

Regarding the news item in print, the applicant says that that news is based on his press conference held at the Press Information Department. That press conference was held over five months ago, therefore he does not have exact recollection of all the contents, claimed the minister.

Some of the statements contained in this publication as imputed to the applicant are clearly incorrect and misleading, said Aziz. The applicant has already sought original record of his press conference from PID, the application informed the SC.

It would be in the interest of justice and fair play that the contents of publication in the Urdu daily be first verified against the video recording of the original press conference dated September 8 last year to determine whether the said publication is inaccurate, misleading and incorrect, the application reads.

Top court issues show-cause notice to Daniyal Aziz

Likewise, regarding the video clip of a private TV channel dated December 21, Aziz stated that he cannot recall the said statement. It would be best that applicant be provided the original video clip, the applicant has added.

The applicant further stated that SC in its Masroor Ahsan vs Ardeshir Cowsajee held that the 'substance of the charge' be served upon a  respondent at the time of issuing the show cause notice and where the substance of the charge is distinct to the framing of the charge.

"It is therefore most humbly submitted that the substance of the charge may be provided to the applicant in furtherance to the show cause notice as already issued to enable the applicant to respond concisely to the specific comments as have been taken notice of and consequent cognizance by this August Court and satisfy this August Court as to the applicant's absolute bona fides in terms of fair comments with no ill intentions on the part of the applicant to any time", says the application.
COMMENTS
Comments are moderated and generally will be posted if they are on-topic and not abusive.
For more information, please see our Comments FAQ