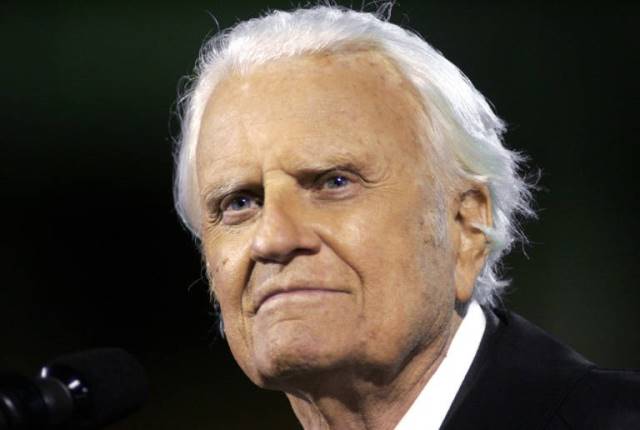 ---
WASHINGTON DC: US presidents from Jimmy Carter to Donald Trump led the chorus of tributes Wednesday to the influential evangelist Billy Graham, a spiritual advisor to a dozen American leaders who has died at age 99.

"The GREAT Billy Graham is dead," Trump tweeted. "There was nobody like him! He will be missed by Christians and all religions. A very special man."


The GREAT Billy Graham is dead. There was nobody like him! He will be missed by Christians and all religions. A very special man.

— Donald J. Trump (@realDonaldTrump) February 21, 2018


Tall and handsome, Graham, an ordained Southern Baptist minister, cut a charismatic figure as an evangelical preacher whose huge tent meetings and rallies found audiences on radio and television.

"Billy Graham was America's pastor," said former president George H. W. Bush.

"His faith in Christ and his totally honest evangelical spirit inspired people across the country and around the world. I think Billy touched the hearts of not only Christians, but people of all faiths, because he was such a good man."

"I was privileged to have him as a personal friend," Bush added. "He was a mentor to several of my children, including the former president of the United States. We will miss our good friend forever."

The Southern Baptist preacher was close to the Bush family, and former president George W. Bush once said that a private meeting with Graham in 1985 helped him quit drinking.

US president's son Donald Trump Jr arrives in India

While he preached to a long line of US presidents, from Harry Truman to Barack Obama, according to his biographers Graham found only Carter to match him in dedication to his faith.

In a tribute, the former Democratic president spoke of Graham's "enormous influence on my own spiritual life."

"Tirelessly spreading a message of fellowship and hope, he shaped the spiritual lives of tens of millions of people worldwide," Carter said.

"Broad-minded, forgiving, and humble in his treatment of others, he exemplified the life of Jesus Christ by constantly reaching out for opportunities to serve."

"I was pleased to count Reverend Graham among my advisers and friends," Carter said.

Trump uses slur to describe immigrants from Haiti, Africa

Graham was recently portrayed as a spiritual adviser to the young Queen Elizabeth II in the recent Netflix television series "The Crown."

The Archbishop of Canterbury, Justin Welby, the spiritual leader of the world's Anglicans, said Graham "stood as an exemplar to generation upon generation of modern Christians."

"When it comes to a living and lasting influence upon the worldwide church he can have few equals: for he introduced person after person to Jesus Christ.

"There are countless numbers who began their journey of faith because of Dr Graham," Welby said. "The debt owed by the global church to him is immeasurable and inexpressible."
COMMENTS
Comments are moderated and generally will be posted if they are on-topic and not abusive.
For more information, please see our Comments FAQ