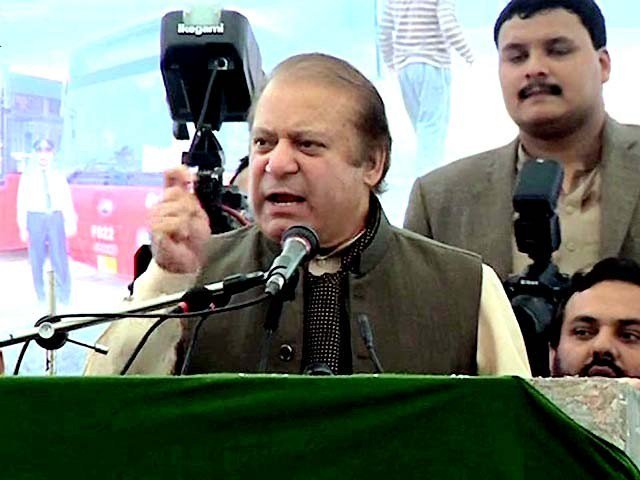 ---
LAHORE: In a bid to dispel the impression of palace discord within the PML-N, all of the politically active leaders from the Sharif family shared the same stage at Lodhran.

Former prime minister Nawaz Sharif, Chief Minister Shehbaz Sharif, Maryam Nawaz, and MNA Hamza Shehbaz sharing the same stage was not the only surprise of the day. Party President Nawaz Sharif kept repeating his daughter and Hamza's names during his speech. He said that both Hamza and Maryam would come back to Lodhran to thank the voters of the NA-154 for rewarding PML-N with such a respectable win. Hamza Shehbaz was curiously absent from Sharif's speeches and public appearances for much of Sharif's post-disqualification tour.

The name was even missing during the post-victory address for NA-120, when, at Awan-e-Iqbal, Nawaz Sharif somehow forgot to mention Hamza as he thanked all and sundry for helping his wife Kulsoom Nawaz take the seat he was disqualified from. At the time, the audience did not appreciate the skipping of Hamza's name and began chanting it. This provided credence to the speculation of a rift in the House of Sharifs.

If Sharif convicted, Shehbaz will be PML-N candidate for PM slot

According to insiders, Hamza Shehbaz manages all political activities in Punjab along with his father, Punjab Chief Minister Shehbaz Sharif, and had developed differences with his uncle Nawaz Sharif over the NA-120 by-election, first over the choice of candidate – his ailing aunt – and later over Perveiz Malik being assigned to manage the campaign with him.

The decision to assign PML-N President Malik along with Hamza was meant to pave a way in for Maryam to get involved in campaigning, sources said. Hamza, reportedly angry with the decision, quietly pulled out of his campaign management role, and, as speculated, Malik silently stepped back to let Maryam take the reins. The campaign was then single-handedly run by Maryam.

She also tried to subdue the impression of a divide once the election was in the bag, but nothing seemed to work.

According to sources, the Sharif family is still not on the same page on several issues, including the new party president, senate tickets, and the policy of confrontation with state bodies, but they are still united on creating the illusion for voters that all is well on the household front.

It was further revealed that PML-N Punjab was planning to hold a large political gathering at Lodhran later on, but Nawaz Sharif wanted to take the stage for himself, so within a day, Shehbaz, Hamza and others re-jigged the event as a post-victory political gathering. Nawaz, even during his address on Saturday, said that a gathering was planned for later in the week, but on his request, the date was moved up.
COMMENTS
Comments are moderated and generally will be posted if they are on-topic and not abusive.
For more information, please see our Comments FAQ