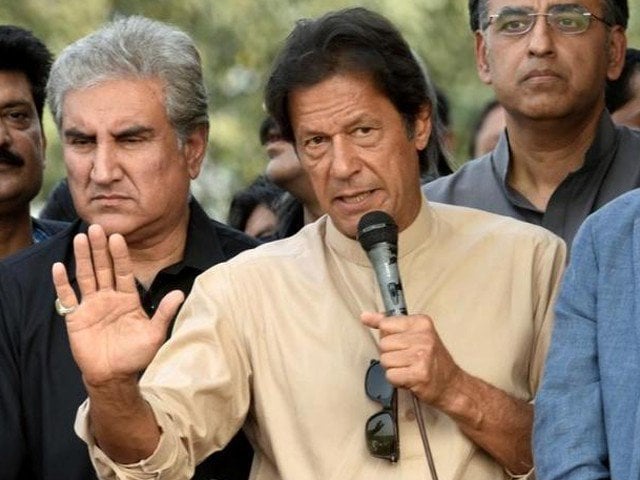 ---
In an attempt to undermine the Pakistan Muslim League-Nawaz's (PML-N) swelling popularity in the aftermath of its chief's ouster as the prime minister, Pakistan Tehreek-e-Insaf (PTI) chairman Imran Khan said that the party lost the Lodhran by-election by fielding an 'inexperienced candidate'.

Justifying the shock defeat in Monday's by-poll while speaking in Express News show Takrar on Wednesday, he said the party did not have too much choice when it came to field Ali Tareen as the candidate for the NA-154 by-poll, adding that some of the party workers and supporters had also joined the rival party.

Ali Tareen – the son of Jahangir Tareen who was disqualified by the Supreme Court for being 'dishonest' – was overwhelmed by PML-N's Peer Iqbal Shah in the last by-poll before this year's general elections.

Shah bagged 116,590 votes while the young Tareen managed to grab 91, 230 votes – nearly the same that Siddiq Baloch of the PML-N had secured in the Dec 2015 by-election against Jehangir Tareen.

PML-N turns the tables on PTI in Lodhran by-election

Speaking in the interview, Imran claimed the ruling party had spent a huge amount of money on the election campaign and added that securing almost 92,000 votes in a six-week-long electioneering for the very first time was something positive for Ali Tareen and the party.

The PTI chief, however, vowed not to repeat the mistakes of this by-poll in the upcoming general elections. "We are fully ready to contest the next elections with full force," he added.

Criticising the ruling party, Imran reiterated that Pakistan was being taken hostage by a mafia and there was no democracy in the country.

Imran sees NA-154 defeat an opportunity to learn

"Rulers have installed their own people in institutions and the Supreme Court has also said that institutions had crippled… they are caught red-handed for forgery, but Nawaz Sharif is still deceiving the masses despite being disqualified," he remarked.

The PTI chief repeated his challenge to the deposed premier of holding a five-time bigger public rally in a city of the former's choice within a span of 24 hours.

Imran had initially accepted his party's defeat as he called the 'setback' an opportunity to analyse mistakes, correct them and come back stronger.

"Successful people, institutions and nations learn from their failures. The 2018 election is ours, InshaAllah" he said in social media posts.
COMMENTS (1)
Comments are moderated and generally will be posted if they are on-topic and not abusive.
For more information, please see our Comments FAQ