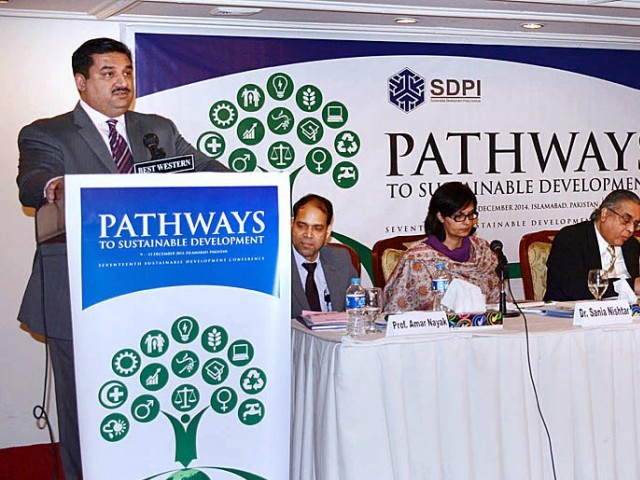 ---
Corporate sector in Pakistan has a potential to maximise the benefits of Corporate Social Responsibility (CSR) funds by allocating some of it for promoting social harmony and peace among communities as contribution to national narrative on peace building.

The Sustainable Development Policy Institute (SDPI) in a review and analysis report says private sector in the country has a role to play for development of society learning from the examples of the world renowned corporate foundations which are spending billions of dollars on the welfare of marginalised communities.

The report says that extremism in Pakistan had impacted the businesses and corporate sector equally badly as it did with other sectors of society.

Corporate Social Responsibility (CSR) is globally recognised as a commitment of businesses to contribute to peace building and socio-economic development of human society. CSR is exhibited in terms of providing funds to undertake initiatives to improve quality of life of people- right from their relevant communities to a larger society. Since corporations generate profits by utilising both human and natural resources that may impact people and environment, so they feel socially responsible to take care of both through CSR initiatives, not with a charity approach but with a financial responsibility towards society.

In Pakistan, CSR and corporate philanthropy are generally used interchangeably but some big companies, especially in the oil and gas sector, are practicing CSR to reduce social, economic and environmental impacts somehow caused by their business activities. Graduating from this, the companies need to use CSR funding for peace building.

The United Nation Human Rights Council in June 2011 endorsed the "Guiding Principles on Business and Human Rights: Implementing the UN's Protect, Respect and Remedy Framework" which necessitates corporate responsibility to respect human rights.  Global businesses work with UN for protection of human rights where they are abused during conflicts and other situations as their commitment and responsibility.

Investing CSR funds for peace building will promote businesses, social well-being of the people and economic development. The businesses in Pakistan need to promote 'winning hearts and minds' efforts through their public campaigns and CSR practices.

The SDPI's review and analysis report calls for the need of a law and a policy for private sector to undertake CSR activities, as, at the moment, the companies are not legally bound to practice CSR rather they are doing this under their management decisions and the Security and Exchange Commission of Pakistan (SECP) guidelines 2013 which are non-binding.

Published in The Express Tribune, February 14th, 2018.
COMMENTS
Comments are moderated and generally will be posted if they are on-topic and not abusive.
For more information, please see our Comments FAQ