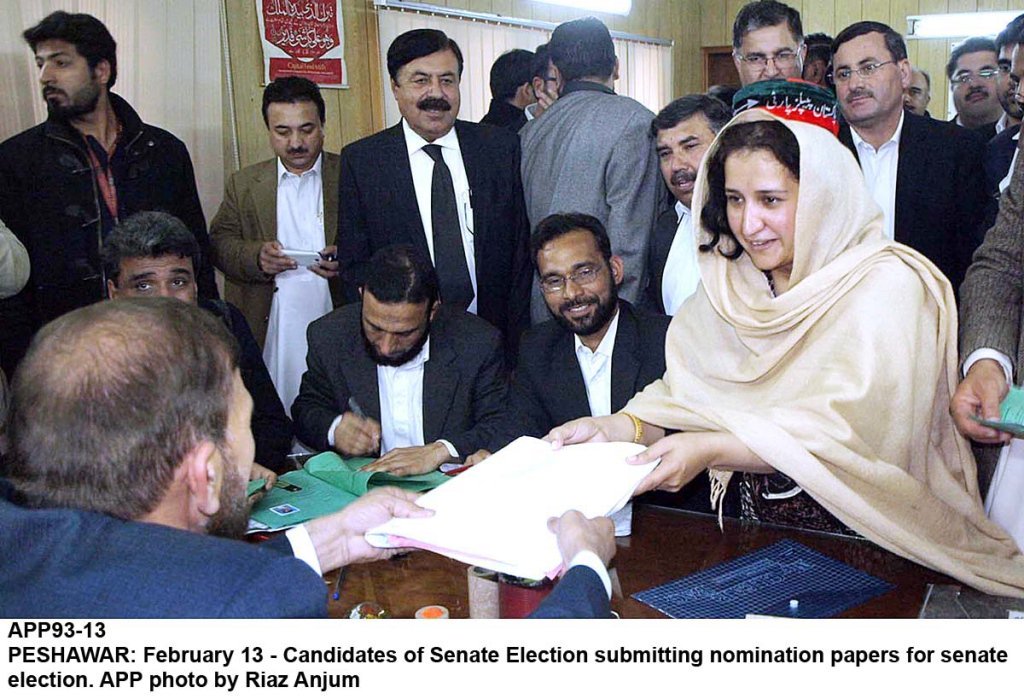 ---
QUETTA/ PESHAWAR/ ISLAMABAD/ KARACHI: The Election Commission of Pakistan's all four provincial offices on Monday conducted scrutiny of the nomination papers submitted by candidates contesting for Senate election scheduled for March 3.

A total of 143 candidates from all four provinces are vying for the 52 Senate seats.

From Punjab, 34 candidates submitted their nomination papers in the ECP for 12 seats. After the scrutiny, five nomination papers, including those of former finance minister Ishaq Dar, were rejected. ECP Returning Officer Sharifullah rejected Dar's nomination papers as he had vied for two different Senate categories on a single bank account, which is against the rules.

The other four included: Usman Zia, Sarfraz Qamar, Hafiz Abdul Karim and Bilal Butt.

The candidates whose nomination papers were accepted for general seats include Malik Shakeel Ahmad Aiwan, Shaheen Khalid Butt, Irfan Ahmad Khan Daha, Rana Mehmoodul Hassan, Mian Hamid Miraj, Rao Aneesur Rehman Khan, Shahzad Ali Khan, Muhammad Bilal Butt, Sarfraz Qureshi, Sayed Asif Saeed Kirmani, Haroon Khan, Samiullah Chaudhry, Maqbool Ahmad, Musadik Masood Malik, Mohammad Sarwar, Zubair Gull and  Farooq Khan.

On women seats Hina Rabbani Khan, Nuzhat Sadiq, Shaza Fatima Khawaja, Saadia Abbasi and Andleeb Abbas's nomination papers were accepted.

On two seats of technocrats, nomination papers of Muhammad Nawazish Ali Pirzada, Naseer Ahmad Bhutta, and Malik Muhammad Asif Javaid have been accepted. On one seat for non-Muslims, nomination papers of Kamran Michael, William Michael and Victor Azariah have been accepted.

Senate tickets: Nawaz's bid to pacify disgruntled party men

After scrutiny, 29 candidates from Punjab will contest for the 12 Senate seats.

From Sindh, 47 candidates applied for 12 Senate seats, with five having their nomination papers rejected. The five whose papers were rejected belonged to Pak Sarzameen Party and the Muttahida Qaumi Movement-Pakistan.

Candidates for general seats included Senate Chairman Raza Rabbani, Maula Bux Chandio, Murtaza Wahab, Ali Jamote, Mustafa Nawaz Khokhar, Imamdin Shokeen, Ayaz Mehr, Kamran Tessori, Hassan Feroz, Khawaja Sohail Mansoor, Ali Raza Abidi, Amir Chishti, Aminul Haq, Barrister Farogh Naseem and Nasreen Jalil.

For women seats, nomination papers of Nighat Shafiq, Mangla Sharma, Kishwar Zehra, Krishna Kohli and Quratulain Marri have been accepted.

28 candidates submit nomination papers for Senate election

For technocrats, Dr Sikandar Mandhro, Rukhsana Zuberi and Najeeb Haroon's nomination papers have been accepted.

Anwar Lal Dean's nomination papers for technocrat seat have been accepted.

These are not final names for the Senate election.

For Khyber-Pakhtunkhwa, 34 candidates submitted their nomination papers for 11 Senate seats. The ECP rejected nomination papers of two candidates.

Nomination papers of 18 candidates were accepted for the general category. For women seats, papers of all eight candidates were accepted and for technocrats, all six candidates' nomination papers were accepted.

For Balochistan, 28 candidates had submitted their nomination papers for 11 Senate seats, of which four were rejected.

Fifteen candidates submitted their forms for general seats, seven for technocrats and six for women seats.

According to the election schedule, appeals against rejection of nomination forms will be heard by February 15 and the final list of candidates will be displayed on February 19.
COMMENTS
Comments are moderated and generally will be posted if they are on-topic and not abusive.
For more information, please see our Comments FAQ