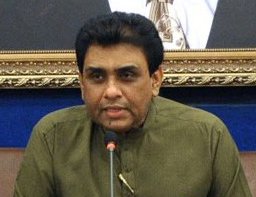 ---
KARACHI ': After removing Farooq Sattar as its convener a day earlier, the Rabita Committee on Monday requested the Election Commission of Pakistan (ECP) to appoint Khalid Maqbool Siddiqui as the party chief.

"Vide the minutes of the meeting of Rabita Committee held on February 11 at Bahadurabad, Sattar has been removed as convener. In his place Khalid Maqbool Siddiqui has been elected by two-thirds majority," said an application written by deputy convenor Kanwar Naveed Jamil, bearing signatures of 26 of the total 35 Rabita Committee members.

MQM-Pakistan factions fail to bury the hatchet

A senior ECP official confirmed to The Express Tribune that the Rabita Committee's plea for a new convener has been accepted and Siddiqui will replace Sattar. "We have not yet issued a notice, but Siddiqui will head the party."

Muttahida Qaumi Movement-Pakistan (MOM-P) nominee for Senate election Barrister Farogh Naseem said that the party was not registered with Sattar, but he was its head.

"The Rabita Committee has removed Sattar with two-thirds majority. He is no longer the party head," Barrister Naseem said, adding that Bahadurabad was the office of MQM-P and no one could claim it.

MQM-Pakistan split all the more likely

Responding to a question, he said, "The Rabita Committee has the authority to make such decisions under MQM-P's constitution. It has also nominated candidates for the Senate election. Sattar can challenge it in court if he has any reservations over it."

The general workers' meeting convened by Sattar holds no legal or moral value as the Rabita Committee has removed him, he added.

When the Rabita Committee removed Sattar as convener, Sattar dissolved the committee in retaliation during a public meeting at KMC ground on Sunday night. He announced to hold intra-party elections on February 17 to elect a new body.